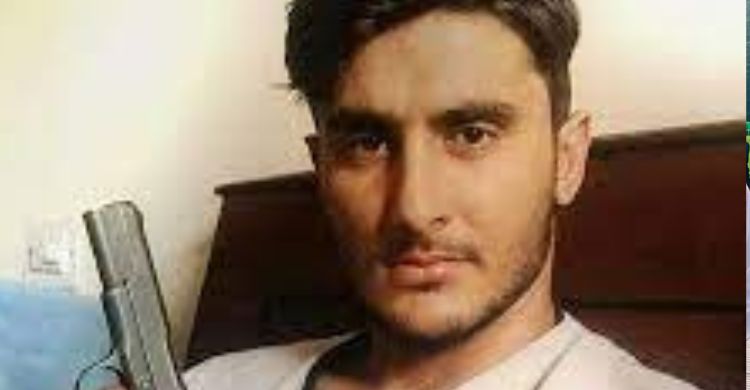 Bathinda, September 02: Four days after Punjab jail minister Harjot Singh Bains received threat from the infamous gangster Goldie Brar, another gangster group named Davinder Bambiha gang has issued a threat to Bathinda Deputy Superintendent Navdeep Singh.

Also Read: Germany's Lufthansa airlines to cancel 800 flights due to pilot union strike
In Facebook post from an account named Davinder France Bambiha,  a long written post was uploaded that said, "Whaeguru g ka khalsa Waheguru g ki fateh Sare veer thik hon gye a vekh lo police tye sarkar de kam sade bandiya nu bhut tang kar rhe hai sada pra sukhpreet Buddha tusi sare jande ho dasan de lod nhi jo ki bathinde jail vich hai ohna nu tang kita ja rha hai a bhut hi madi gall hai jina ne gand paya ohna nu jvayi samjk rakhya huya a bhut hi madi gall hai eda injam bhut mada hoyi ga aina hi punjab police vich josh hai taan faddo sidhu 22 de katla nu fad k lyavo mankirat aulakh nu o taan fad hunde nhi tade kolo sade kise ve bande nu tang na kita jaye nhi taan asi damki nhi hun sida hi kam kra gye ...baki ......wait and watch ... Davinder bambiha group..." (SIC)
Notably, such threats from the gangster outfits are increasing exponentially, after broad daylight murder of Punjabi Singer Sidhu Moosewala. Several politicians, high rank officers, actors, singer and businesspersons have reportedly received death threats and ransom calls in the last three months.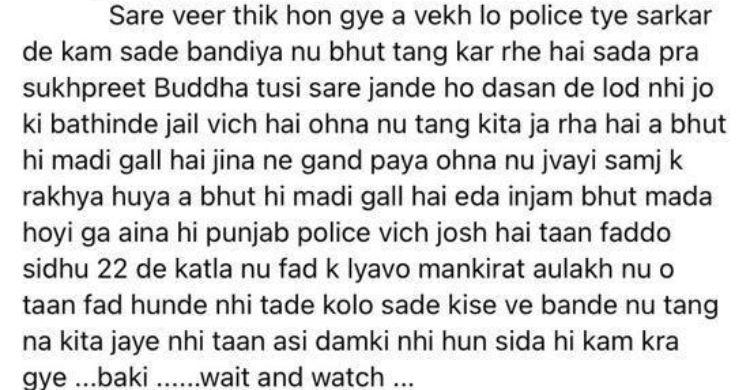 On Friday morning, slain singer's father Balkaur Singh Moosewala too received a threat via E-mail. According to information, Sidhu Moosewala's father Balkaur Singh has allegedly received a death threat from the Lawrence Bishnoi gang via email.
In the email, the Lawrence Bishnoi gang has threatened Moosewala's father that if he raises voice over the security cover of Lawrence Bishnoi and Jaggu Bhagwanpuria then they will kill him.
In the e-mail sent on Moosewala's mail ID, the gang members have further mentioned "your son had killed our brothers and we killed your son."
"It was under your pressure that the fake encounter of Manpreet Mannu and Jagroop Roopa took place. We will not forget this," the post read.
Also Read: Ruckus at Delhi airport due to cancellation of Lufthansa Airlines           
-PTC News