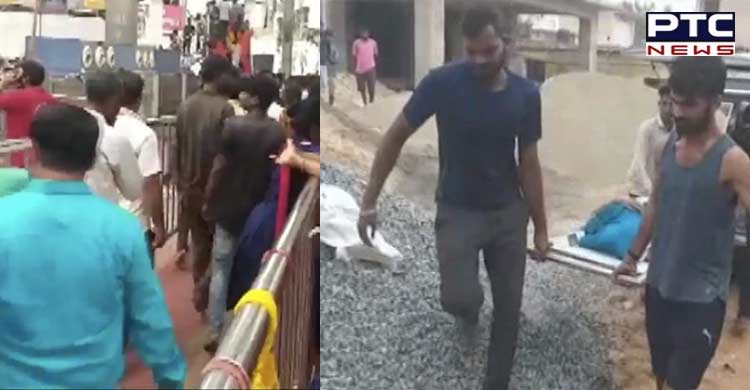 Sikar (Rajasthan), August 8: At least three persons died and two were injured in a stampede at Khatu Shyam Ji temple in Sikar district of Rajasthan on Monday.

According to reports, injured persons have been referred to a hospital in Jaipur for treatment.
The stampede reportedly occurred during a monthly fair at the entrance of Khatu Shyamji Temple at around 5 am.
According to the police, all victims were women. Reportedly, a large crowd had gathered outside the temple, waiting for the gates to open. However, when the gates opened, a woman reportedly fainted and fell, causing others behind her to fall as well.
A police team rushed to the temple to control the crowd.
Also Read | Sugarcane farmers to stage 'indefinite' dharna at Phagwara Sugar Mill Chowk on Aug 8
Following the tragic incident, Rajasthan Chief Minister Ashok Gehlot extended condolences over the demise of three devotees.
"The demise of three women is unfortunate. My condolences to the bereaved families. I also pray for the speedy recovery of the injured devotees," he said.
The CM also announced an ex-gratia of Rs 5 Lakhs each for the next of kin of the deceased and an aid of Rs 20,000 each for those injured in the stampede.
Meanwhile, Prime Minister Narendra Modi also expressed his condolences over the loss of lives in the stampede and wished for a speedy recovery of the injured.
"Saddened by the loss of lives due to a stampede at the Khatu Shyamji Temple complex in Sikar, Rajasthan. My thoughts are with the bereaved families. I pray that those who are injured recover at the earliest," PM Modi tweeted.
It is deemed auspicious to have Khatu Shyam Ji's darshan on the eleventh day of the lunar calendar i.e August 8. as he is thought to be a manifestation of Lord Krishna.
Being one of the most significant pilgrimage sites in Rajasthan, the Khatu Shyam Ji temple draws large crowds.
People could be seen moving in long lines in groups in the direction of the shrine. These lines can sometimes be several kilometres long.
Also Read | Punjab mulls merger of Punsup with Pungrain
-PTC News