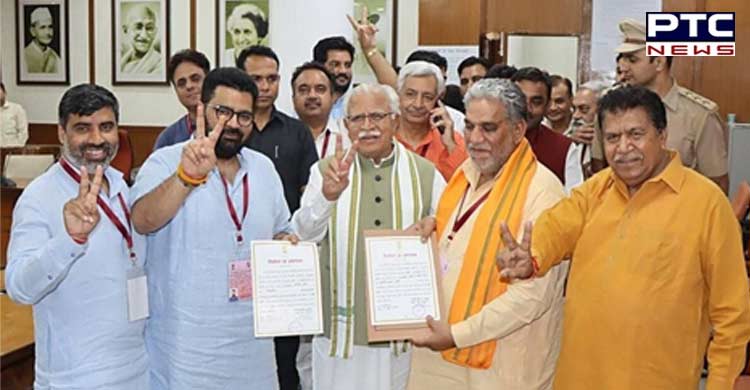 Chandigarh, June 11: Congress candidate Ajay Maken lost the Rajya Sabha elections to media baron Kartikeya Sharma, BJP-backed independent candidate, by a "narrow margin", a huge shock for the grand old party which was confident of the winning the seat.

"By a very very, very narrow margin, Ajay Maken has lost," Haryana Congress MLA Bharat Bhushan Batra told mediapersons after results of the Rajya Sabha elections held on Friday came in. Polling was held on June 10 to elect two members to the Upper House of Parliament from Haryana. BJP's Krishan Lal Panwar scored a comfortable victory with 31 votes, leaving the battle for the second seat between Maken and Kartikeya Sharma.
Also Read | Centre issues new guidelines for print, television and online advertisements; bans surrogate ads
Amid allegations of cross-voting and rule violations, the counting of votes was delayed and there was a recounting of votes that went on past midnight.
Out of 90 MLAs in the Haryana Legislative Assembly, independent candidate Balraj Kundu abstained and a vote, apparently of Congress MLA Kuldeep Bishnoi, was rejected leaving 88 votes valid. Sharma, who was backed by the BJP and its ally Jannayak Janata Party (JJP), got 29.6 votes while Maken received 29 votes.
Addressing a press conference after the victory at around 3.50 am, Haryana Chief Minister Manohar Lal Khattar said, "It is a matter of happiness for us. I thank all the MLAs for making Krishan Lal Panwar and Kartikeya Sharma win. It is a victory of democracy. I am hopeful that both of them will raise the matters related to Haryana's people in the House."
Explaining the math behind the counting, he said, "The BJP had 40 MLAs, Congress 31 MLAs, 10 JJP MLAs, independents and candidates of some other parties. One candidate abstained and one Congress MLA's vote was rejected."
"So, there were a total of 88 votes polled. Those who got one-third votes i.e. 29.34 votes won. Both our candidates combining first preference and second preference won but the Congress candidate got only 29 votes. MLAs were trained well. Our first preference votes were 36. He (Panwar) needed only 29.34 votes and 6.66 votes were transferred to Kartikeya Sharma," he added.
Khattar said the Congress demanded the recounting of votes fearing its defeat.
"There was a recounting of votes. Our polling agent said the Congress thought they had won the elections but when they got to know that they are losing they demanded recounting. Our polling agent did not have a problem with recounting," Khattar added.
Commenting on Congress MLA Kuldeep Bishnoi whose vote was rejected, the Chief Minister said he voted openly after listening to his "inner conscience". "He (Congress MLA Kuldeep Bishnoi) has voted openly after listening to his inner conscience. I can say that he has faith in PM Modi's policies and ideology. He didn't even think what Congress party is going to do with him after this," he added.
Also Read | Punjab to ply govt VOLVO buses to Delhi Airport from June 15
After the Congress lost the seat, Bishnoi, MLA from Adampur, tweeted a cryptic message today. "I have the ability to crush the fun, Do not leave the forest because of the fear of snakes. good morning," he tweeted.
-PTC News