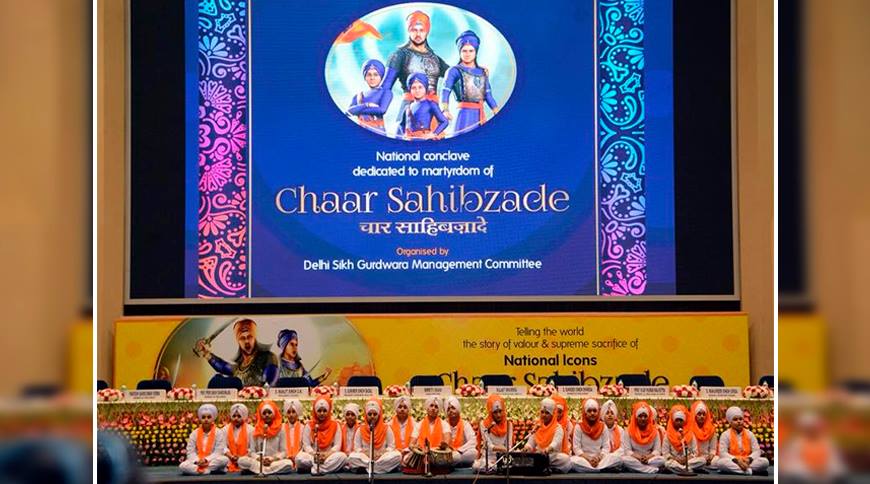 Plea to observe Sahibzade martyrdom day as Bal Diwas: In a conclave organised by the Delhi Sikh Gurdwara Management Committee (DSGMC) it was decided to recommend the government to observe the martyrdom day of Chaar Sahibzade as Bal Diwas.
Information and Broadcasting Minister Smriti Irani, Shiromani Akali Dal leader Sukhbir Badal and other dignitaries attended the programme organised by Delhi Sikh Gurudwara Prabandhak Committee.
Delhi Sikh Gurudwara Prabandhak Committee President said that their sacrifices should be included in school syllabus. The revered sons of Sri Guru Gobind Singh, also called Chaar Sahibzaade are remembered for their deeds and supreme sacrifices.
West Delhi MP Parvesh Verma and senior BJP leader Vijay Kumar Malhotra were among the speakers on the occasion. They said, having seen the sacrifice of Chaar Sahibzade, the December 22 should be declared as Bal Diwas to commemorate their martyrdom by the government.
They had sacrificed their lives to protect Hindus from the torture of Mughal emperors, West Delhi MP Parvesh Verma said.
She asked the DSGMC to celebrate such functions in each city to enlighten people about the sacrifices of martyrs.
She also thanked DSGMC president Manjit Singh GK and general secretary Manjinder Singh Sirsa for informing her about the history of Chaar Sahibzade.
SAD chief Sukhbir Singh Badal said his government in Punjab had spent Rs 2,000 crore for the construction of religious memorials in Punjab, including Virast-e-Khalsa, Banda Bahadur Singh memorial, Chhota Ghallu Ghara and Bara Ghallu Ghara.
-PTC News