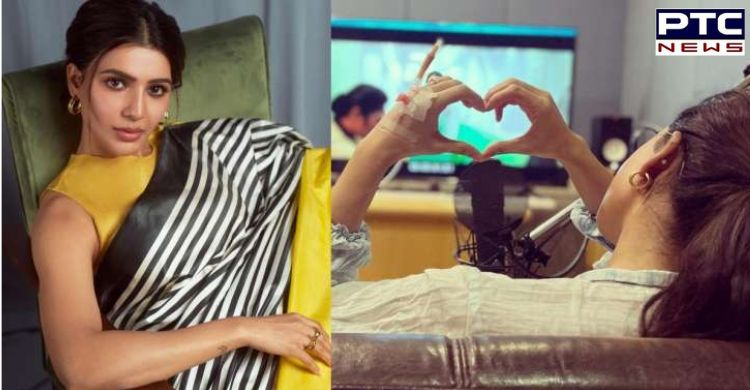 Samantha diagnosed with Myositis: Actor Samantha Ruth Prabhu on Saturday revealed that she has been diagnosed with an autoimmune condition called Myositis.

Samantha took to Instagram to share a photo of herself sitting on a couch with an IV drip attached to her wrist. The actress sat with her back to the camera, a mic in front of her, and watched the Yashodha trailer. Samantha did not reveal her face, but she did make a heart symbol with her hands.
"Your response to the Yashodha Trailer was overwhelming. It is this love and connection that I share with all of you, that gives me the strength to deal with the seemingly unending challenges that life throws at me. A few months back I was diagnosed with an autoimmune condition called Myositis. I was hoping to share this after it had gone into remission. But it is taking a little longer than I hoped," Samantha captioned.
She further said, "I am slowly realising that we don't always need to put up a strong front. Accepting this vulnerability is something that I am still struggling with. The doctors are confident that I will make a complete recovery very soon. I have had good days and bad days…. physically and emotionally…. and even when it feels like I can't handle one more day of this, somehow that moment passes. I guess it can only mean that I am one more day closer to recovery. I love you...THIS TOO SHALL PASS."
What is Myositis?
According to the US-based Myositis Association, myositis is essentially a general inflammation of the muscle, caused when the immune system becomes "misdirected" and begins attacking the body's healthy tissue.
It is a rare disorder with symptoms such as swelling, weakness, and muscle damage showing up slowly.
Patients may have difficulty moving, clutching objects, and swallowing long before the condition is diagnosed.
The causes of myositis are unknown. However, experts believe that certain people have predisposing genes that can be activated by infections or toxins.
Treatments for Myositis
Myositis can be treated with a variety of methods, including biological therapies, physiotherapy, and steroids. However, it is incurable.
-PTC News