PTC News Desk: Apple has kicked off the anticipation by sending out invites to its annual event set to take place on September 12 at its Cupertino, California headquarters. The event is scheduled to begin at 10:00 a.m. Pacific Time (10:30 pm IST). The invite showcases an Apple logo adorned in shades of blue and gold, accompanied by the intriguing text, "Wonderlust."
While the invitation refrains from explicitly disclosing the products in the spotlight, it strongly hints at the unveiling of the next-generation iPhone 15 series. Historically, Apple leverages this event to introduce new hardware, primarily its latest iPhone models and Apple Watch iterations.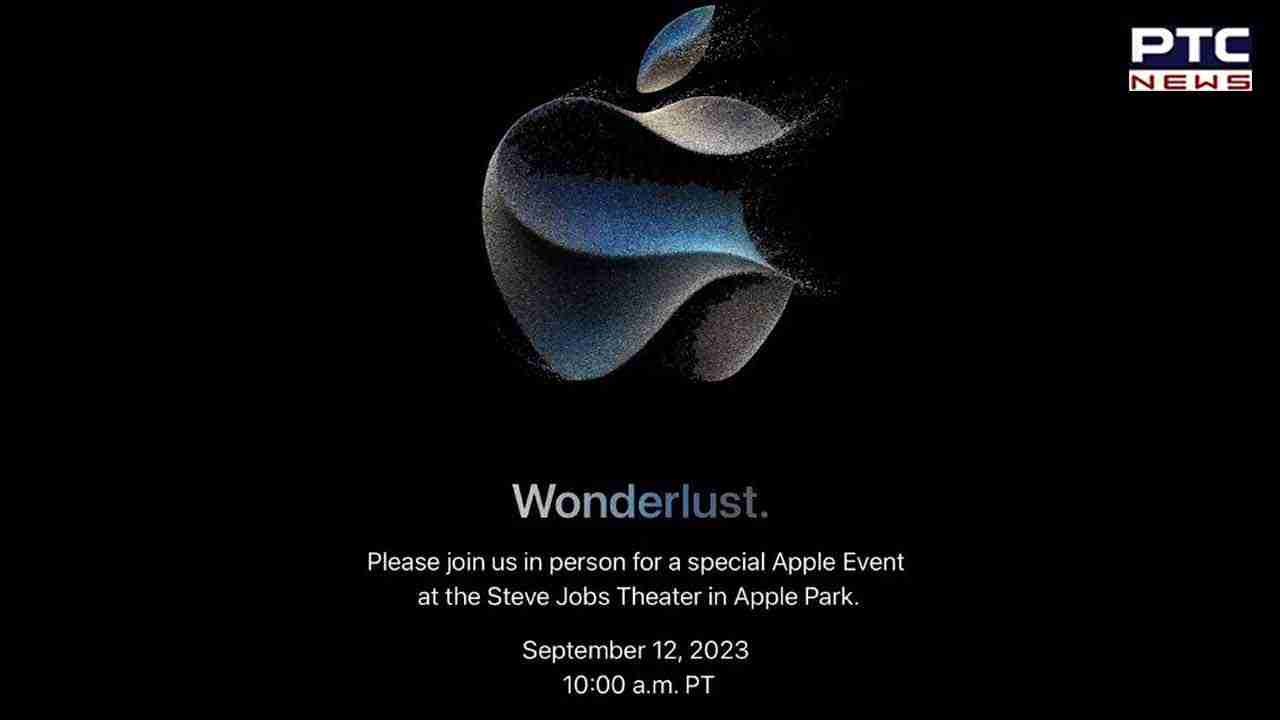 Anticipated Unveilings at Apple's Annual Event:
This year's event is expected to introduce four new models, comprising two standard iPhone 15 variants and two high-end iPhone 15 Pro versions.
The iPhone 15 series is projected to encompass the iPhone 15, iPhone 15 Plus, iPhone 15 Pro, and iPhone 15 Pro Max models. Notably, the iPhone 15 Pro Max is rumored to incorporate a periscope camera, a flagship feature within the iPhone 15 series. The iPhone 15 Pro and iPhone 15 Pro Max are speculated to be driven by the A17 Bionic processor, anticipated to represent a significant advancement over the A16 Bionic chip, which is integral to the iPhone 15 and iPhone 15 Plus.
Amidst the speculations, there's talk of a new action button that will grant users expedient access to specific features and applications. Additionally, camera capabilities remain a defining characteristic of iPhones. The iPhone 15 and iPhone 15 Plus are rumored to boast a 48-megapixel primary camera. However, the iPhone 15 Pro might lack the periscope lens known for enhancing optical zoom.
Apple's event may also bring to light two new iterations of the Apple Watch: the second-generation Apple Watch Ultra and the Apple Watch Series 9.
Furthermore, the event might serve as the platform for announcing the release date of iOS 17 and other pertinent iOS updates.
Enthusiasts worldwide can partake in the event's excitement via live streaming on Apple's official website, YouTube channel, and the Apple TV application. The live stream accessibility extends to iPhones, iPads, Macs, and Apple TVs, ensuring a seamless experience for Apple aficionados across platforms.
- With inputs from agencies