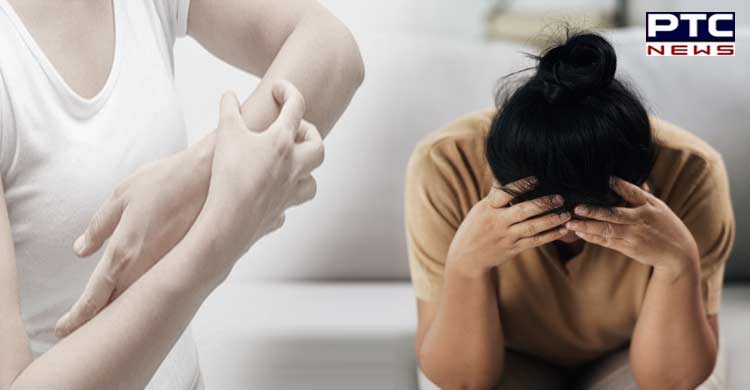 Washington (US), June 24: Skin disorders can have a devastating impact on the physical and mental health of children and young people even if there are effective treatments available, suggest new research.

Skin disorders can have a detrimental effect on all aspects of life, including relationships, career, and lifestyle decisions. Particularly throughout adolescence, people often experience feelings of self-consciousness, self-doubt, and increased anxiety about their appearance and physical attractiveness. Skin problems, which are particularly prevalent in this age group, can have such a lasting influence since it represents a crucial time in physical and psychological development.
98 percent of people with skin disorders claim that their condition impacts their emotional and psychological wellbeing, while just 18 percent have obtained some kind of psychological support, according to a 2020 poll by the All Parliamentary Group on Skin.
Two skin disorders, ichthyosis and eczema, which are both known to have a significant impact on quality of life, are the focus of new research being conducted by researchers from King's College London and Newcastle University.
Researchers looked for a connection between eczema's severe itching, sleep disturbances, and brain function. 20% of children and 8% of adults suffer from the inflammatory skin disease eczema. It is closely associated with mental health conditions such as anxiety, depression, and attention-deficit hyperactivity disorder as well as serious negative effects on quality of life.
Poor quality sleep affects memory, concentration and mood, and in healthy children and young people, poor quality sleep has been linked with poor educational outcomes; however, researchers do not fully understand the links between eczema, itching and mental health issues.
Also Read | Indian national shot dead in US' Maryland, father says never wanted him to go abroad
According to Professor Flohr and colleagues, these mental health issues are likely caused in part by chronic inflammation in the skin, blood, and brain, which can disrupt sleep and cause inflammation in the brain.
Investigating severe forms of the genetic condition ichthyosis, Dr Neil Rajan says that it can be inherited (genetic) or acquired during life.
In comparison to eczema, which can be patchy and come and go with time, ichthyosis scaling is present throughout life and usually affects the whole body.
Ichthyosis patients may experience bullying, discrimination, and uncomfortable symptoms that are frequently managed only by time-consuming treatments, all of which can have a significant negative effect on mental health.
"Adolescence is a time of self-consciousness, self-doubt and exaggerated concern with appearance and physical attractiveness - all of which can make ichthyosis an especially painful experience for teenagers. By studying skin samples taken from ichthyosis patients, we're hoping to reveal more about the genetics underpinning the condition, which is needed in order to develop much-needed new treatments for adolescents with ichthyosis, says Dr Rajan.
"Young people with severe ichthyosis really suffer and I hope this research will provide new insights which will lead to advances in treatment," adds Co-investigator, Professor Edel O'Toole from the Queen Mary University of London.
Also Read | 45.30% voter turnout in Sangrur Lok Sabha bypoll; lowest since 1991
-PTC News