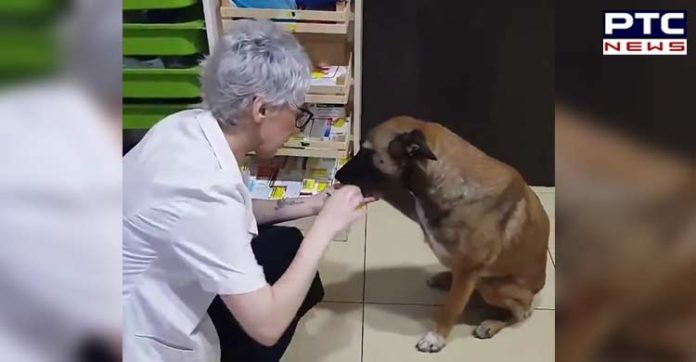 In a video raging on the Internet, a street dog showing his injured palm to the doctor has garnered a lot of reaction across the world. In a video shared on Twitter by Pharmacist Banu Cengiz, the video features a street dog walking into the pharmacy and showing his injured paw seeking help.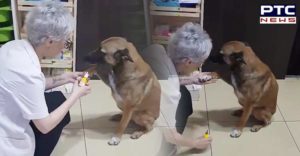 In a video, Dog can be seen giving his hand seeking help for the injury in his paw. The video has been viewed, again and again, million times. The pharmacist in a video can be seen making efforts to put medicine on his wounds.
Also Read: Dog Bites Rapist, Saves Minor From Being Raped
Well, here is the video of dog showing his paw to the doctor and the reactions that are pouring down on the Internet as people are showing their love to the street dog.
Senin o kimden yardım isteyeceğini bilen aklına,güzelliğine,usluluğuna kurban olurum.patisi kanamış,eczaneye girip patisini uzattı,yarasını gösterdi bana. pic.twitter.com/MUYE9yFM6j

— Badores (@badores) June 20, 2019
In #Istanbul, an injured stray dog goes to a pharmacy
Watch what happened next
pic.twitter.com/wMg0imxBdS

— Mohsin Mughal (@MughalMohsin) June 23, 2019
Street dog walks into a pharmacy and shows an injured paw. Such a sweet baby. ??? https://t.co/ikmQLQgehZ

— Subha Priyadarshini (@subhatomic) June 25, 2019
Humanity is still alive because of you mam. Thanks you for being for kind to this world https://t.co/CLddBWSCOU

— shivam kumar (@Strong_Indians) June 24, 2019
Being kind is all what matters ? https://t.co/qYdcem0biw

— Aarti Basran (@BasranAarti) June 24, 2019
it's so heartwarming https://t.co/WO6wLrDtOr

— ? (@ladywhoooo) June 21, 2019
Love ❤?? https://t.co/LD5UMRW0Be

— EnginAkyürekFãBrasil (@EnginAkyurekBRA) June 22, 2019
When a stray dog was injured, he entered to pharmcy and asked for helping?? https://t.co/wuEE4jR0c8

— henecia.tr?? (@TrHenecia) June 23, 2019
This is too amazing ? https://t.co/5jOcTMUdLo

— Mo (@Mo_87mcfc) June 24, 2019
Kindness ? https://t.co/ajsWk2DQCX

— Ahitagni Mandal (@ahitagni) June 24, 2019
The dog has turned overnight star and is going all over the social media. The video is garnering lots of love reactions through the audience and as per today's era, going viral on social media.
-PTC News