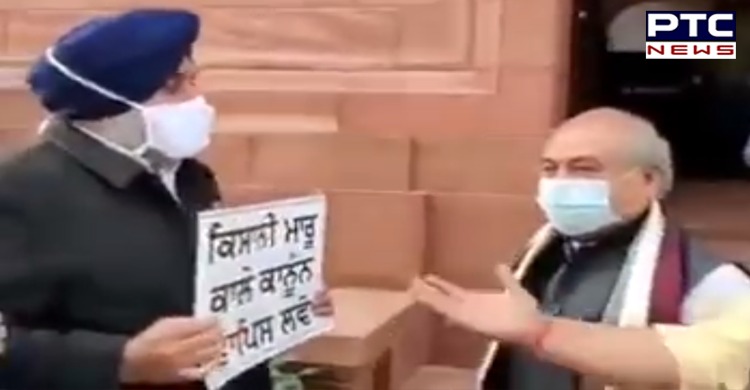 Budget Session 2021 in Parliament: Shiromani Akali Dal President Sukhbir Singh Badal on Friday asked Union Ministers Narendra Singh Tomar and Rajnath Singh to take back farm laws 2020.

During the Budget session 2021, Shiromani Akali Dal was protesting outside the Parliament against farm laws 2020. Sukhbir Singh Badal was talking to media persons when Union Agriculture Minister Narendra Singh Tomar came to meet the SAD president where he asked Tomar to take back farm laws.
Also Read | Kisan Andolan: FACT! Real farmers refused to put any other flag on Red Fort [VIDEO]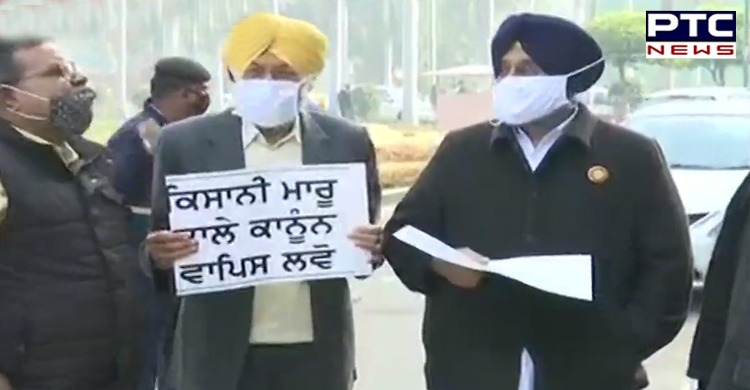 Failing to respond to his request, he left and entered the Parliament. A few moments later, Rajnath Singh passed by when Sukhbir Singh Badal showed him the poster asking to repeal farm laws.

Former Union Minister Harsimrat Kaur Badal, who resigned from the Union Cabinet in protest against the farm laws, took to Twitter and shared the video.
Also Read | Water… from village made Rakesh Tikait cry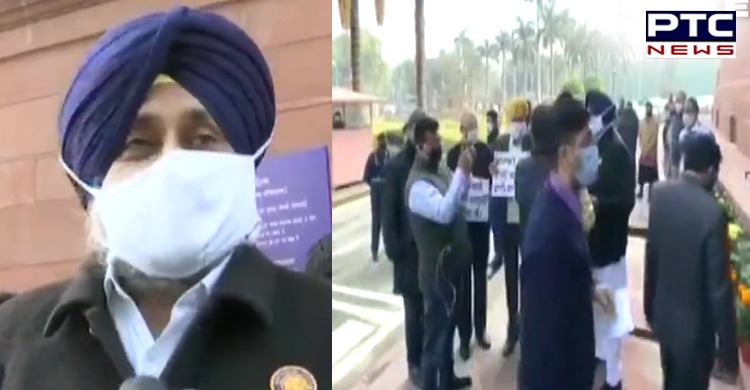 She wrote: "Shiromani Akali Dal has drawn a clear line between those who are with the annadata and those who are out to crush and humiliate him. We boycotted the President's Address in Parliament and exposed the central govt as farmers' enemy out to crush the peaceful Kisan Andolan."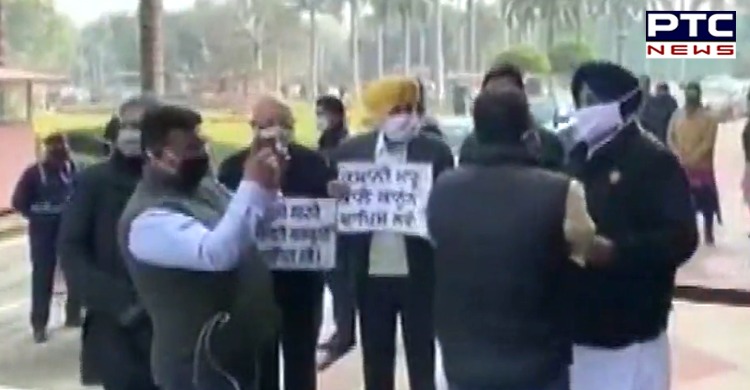 He also said that "SAD has taken lead to become voice of farmers in Parliament by registering strong protest against efforts to suppress them by boycotting President's address. We'll raise our voice against this tyrannical govt until 3 Agri Laws are repealed."
https://www.youtube.com/watch?v=QAInKwxeS0M&feature=youtu.be
"So far the Indian government has not listened to farmers, now he wants to end their struggle with Dadagiri. Therefore, all opposition parties are unanimous that atrocities are happening with the farmers of the country."
-PTC News