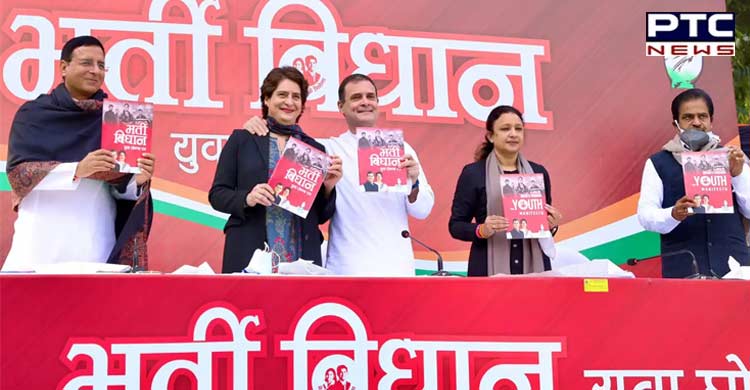 Uttar Pradesh Assembly Elections 2022: Ahead of crucial state polls, Congress leader Rahul Gandhi and Priyanka Gandhi launched the Uttar Pradesh's Youth Manifesto, at the All India Congress Committee (AICC) HQ in Delhi on Friday.

Speaking at the launch of the 'youth manifesto' named 'Bharti Vidhan', the senior Congress leader Rahul Gandhi remarked that the manifesto is all about 'UP youth's visions', which has been drafted after consulting the youths of the state. "The youth in Uttar Pradesh needs a new vision and only Congress can give that vision to the state," he added.
"Congress spoke to UP youth before outlining the manifesto. It is all about their opinion", Rahul Gandhi said, adding that the party wants to create a new Uttar Pardesh by using the youth's vision.
Slamming the ruling BJP government in Uttar Pradesh, Rahul Gandhi claimed, "About 880 youth lost a job in Uttar Pradesh every 24 hours while 16 lakh youths lost jobs in the last 5 years." Emphasising the job situation, the party leader added, "PM Modi promised 2 crore job every year which did not happen. Why? This is because India's assets are going to two-three capitalists."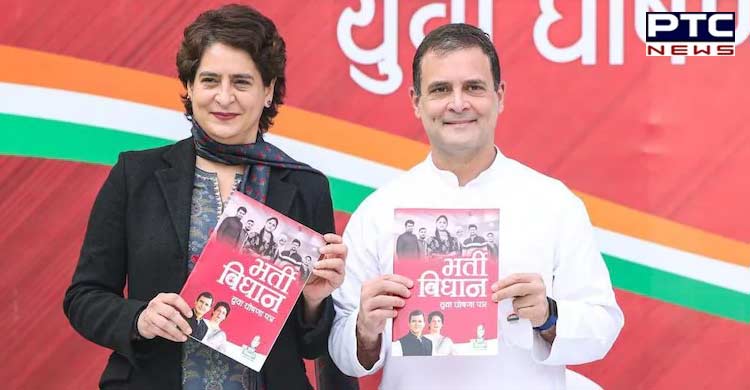 Also Read | Amar Jawan Jyoti merged with eternal flame at National War Memorial
"There are no hollow promises from Congress; rather, the thinking is that a strategy for the future of the youth of Uttar Pradesh, including how we will provide you employment, should be conveyed. We will provide you with 10 lakh, 20 lakh, 30 lakh, and 40 lakh jobs, but how Congress would do so is detailed in this manifesto ", stated Rahul Gandhi.
Priyanka Gandhi, the General Secretary of the Uttar Pradesh Congress, said at the manifesto launch that Congress in Uttar Pradesh wants to focus on development rather than negative propaganda based on caste or communalism, as the other parties do. "The manifesto is called 'Bharti Vidhan,' because 'Bharti,' or recruitment, is the main problem in Uttar Pradesh," Priyanka explained.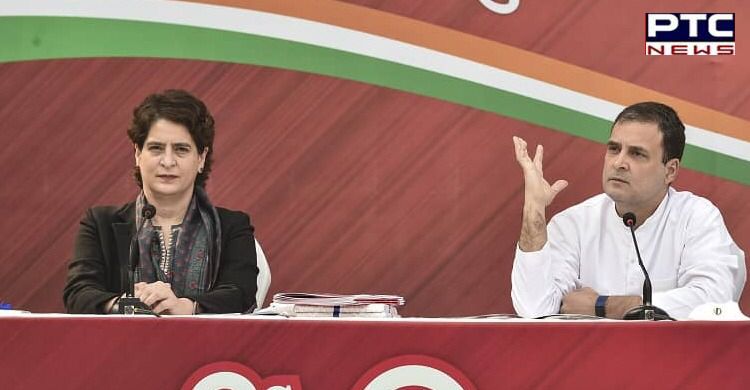 She added that despite their qualifications, the UP youth are distressed due to a dearth of employment opportunities. "We will create 20 lakh jobs, of which 8 lakh would be reserved for women," Priyanka stated.
Aside from that, Congress promises to fill all of the seats available in government schools, employing 1.5 lakh teachers. The party also promised to address the issue of exam corruption by waiving all competitive exam fees. "Along with this, efforts will be made to make the recruitment process more transparent, and vacant posts will be filled. Startups would also be able to get low-cost loans ", claimed Priyanka Gandhi Vadra, the Congress party secretary.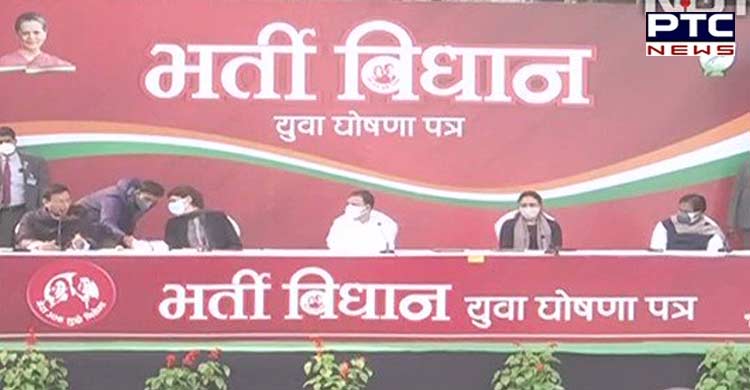 "We don't spread hatred because we want to build a new Uttar Pradesh," Rahul Gandhi remarked.
Meanwhile, Congress general secretary Priyanka Gandhi indicated on Friday that the party's CM candidate in the upcoming Uttar Pradesh Assembly election could be her. Priyanka Gandhi, when asked about the CM face in the election-bound state, said "Do you see anyone else from the Congress party [in Uttar Pradesh]? Dikh to raha hai na sab jagah mere chehra (You can see my face everywhere)."
Also Read | 'Bat Out Of Hell' singer Meat Loaf dies
-PTC News