In another case, the Sanyukt Hindu Sangharsh Samiti stopped Muslims from offering 'namaz' at 10 places here on Friday.
Atul Kataria Chowk, Sikanderpur, Cyber Park Sector 40, Wazirabad, Mehrauli-Gurugram road and IFFCO Chowk were among the few places where Namaz was disrupted.
In a similar incident on April 20, hundreds of Muslims who had gathered to offer "namaz" were stopped by six local youths. A video of the incident went viral on social media. On its basis, the youths were arrested, but then bailed out.
The next week, Muslims offered "namaz" with the police deployed nearby.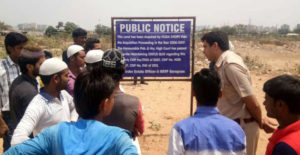 Irked, residents of Wazirabad and Kanhai villages insisted that if "namaz" was offered today (May 4), they would organise a "havan".
As a precautionary measure, the Haryana Urban Development Authority (HUDA) has put up a board in Wazirabad village, announcing that the property belongs to them. It banned trespassing. As a result, the prayer meeting was called off. Muslims claimed they were scared of an attack by Hindu groups.
"We could not have taken risk as we knew that if we gathered today, they will attack us. So we cancelled the meeting," said one of the organisers of prayer meeting.
"We had asked the administration to stop unauthorised gatherings and encroachment of land, but no step was taken. So we took things in our hands. We are not against any religion or the right to prayer, but one cannot disrupt public life or halt traffic or occupy open spaces. The administration should check whether Muslims gathered to offer 'namaz' are residents of Gurugram or illegal immigrants from Bangladesh," said Vikram Singh, a member of the samiti.
-PTC News