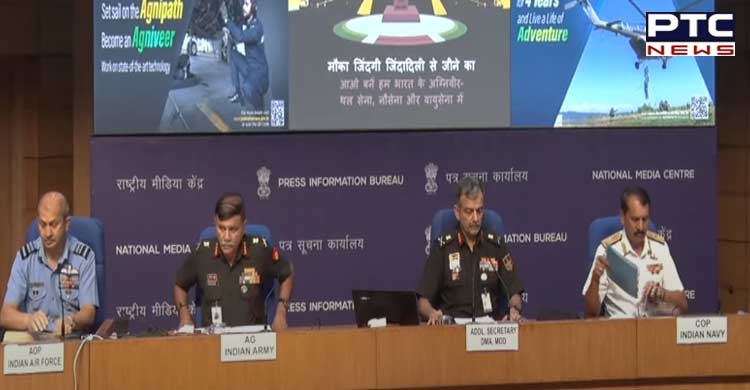 New Delhi, June 21: A tri-service media conference chaired by the additional secretary of the department of military affairs on the Agnipath scheme is underway.

While addressing the press conference on the newly launched recruitment scheme, Lt Gen Anil Puri, Additional Secretary of the Department of Military Affairs, said that 'Agnipath' balances three things, first - youthful profile of the armed forces, technical savvy and adaptable people joining the Army and third makes the individual future-ready.
Talking about the Centre's new recruitment plan for the armed forces, Lt Gen Puri added that serving in the armed forces is not just another job, it is a challenge and call of patriotism.
Also Read | Shiv Sena to remove Eknath Shinde as Legislative party leader
"Someone spread the rumour that old-timers of the Army will be sent to the Agniveer scheme. This is proven to be fake information," he added.
During the media briefing on Tuesday, the Defence Ministry clarified that all stakeholders were involved in finalising the Agnipath scheme.
Furthermore, the ministry assured that recruitment under the Agnipath scheme will be carried out under an objective and transparent selection process.
Air Marshal SK Jha further added that Agniveers are being inducted gradually starting with 2% in the first year. The numbers will go nearly 6,000 in the fifth year & will be around 9,000-10,000 in the 10th year...Every enrollment in Indian Air Force will now take place through 'Agniveer Vayu' only.
There is absolutely no change in the process of induction, entry-level qualification, examination syllabus, or medical standards, Air Marshal Suraj Kumar Jha added.
Also Read | Centre files caveat in SC on pleas challenging Agnipath scheme
The Defence Ministry went on to add that the first batch of Agniveers will be trained and deployed to units by next year July and added that Agniveers will be eligible for gallantry awards.
Further detailing the scheme, the Navy official said that "We will compress training timeline without compromising on quality." Meanwhile, the Army official added that the new recruitment plan will not impact Army's combat capabilities; in fact, it will improve."
-PTC News