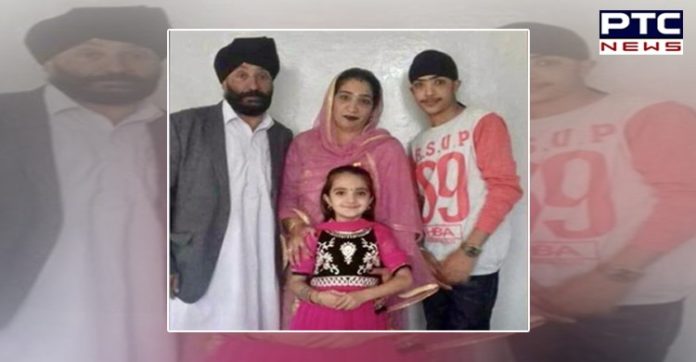 A young girl from Delhi, Harpreet Kaur married her love and moved to Kabul. "At first, I couldn't understand where I had come. I used to cry in my room," she recalls.
Slowly, the community's irresistible warmth touched her as she says, "Phir mera bahut dil lag gaya and I didn't want to leave."
She grew up as a daughter of refugees in Delhi as her parents had left Afghanistan for Delhi after Baisakhi in 1947.
Little did she knew that she was going to become a refugee herself, when she had to move back from Kabul after her husband's death in a blast in Afghanistan.
She is one of the rare Delhite into Kabul, who eventually returned to Delhi, now a city of strangers for her.

Harpreet has two children, both born in Afghanistan. Her husband, Rawail Singh, was a community leader and trader.
"He taught me to read and write. I am literate because of him," she says. "Every day we made lunch at home, and went out for dinner," she recalls. Her kids went to good schools and speak fluent Punjabi.
She remembers the little things he did. "Every evening their father would come home from work and teach them Punjabi," she says. "Every year on our anniversary and my birthday, he gifted me a ring," Harpreet remembers, "I had 31 rings in all. I felt like a queen."
When a six-year-old Muslim girl landed at her doorstep, Harpreet took her in. She became her third child, and grew up with her own children. "Whenever my kids got a dress made, she would get one too". To Harpreet, it didn't matter what faith she belonged to.
Never in their wildest dreams had the family imagined that their life would change forever.
In 2018, her husband received an invitation to join a caravan of Sikh leaders of Afghanistan to meet the President, Ashraf Ghani, in Jalalabad. "I had a feeling that something bad was about to happen," Harpreet recalls.
Also Read | Illegal liquor vend raided, 1 held in Amritsar
But her husband didn't think twice, "Mein seva karan ja rehan, meinu kuch nahin hunda," he said and left. That was the last time Harpreet saw her husband.
When Rawail Singh, along with 12 other Sikh leaders, went to meet President Ghani, their van was asked to wait at the gate of the President's complex. Before they knew it, a suicide bomber appeared and the leaders were no more. Ghani was unharmed and continued with his meetings.
The tragic incident changed the lives of the families related to these 17 leaders. Harpreet's life was shattered into pieces and before she knew it, Harpreet had landed in Delhi. "Afghanistan wasn't safe," she says. She left her house after six months of the blast and in care of the Muslim girl she had raised, now 20 years of age. She brought nothing with her and despite having arrived in Delhi more than two years back, Harpreet still considers Afghanistan her home.
Harpreet now lives in the Tilak Vihar, Delhi, along with many other Afghan Sikh refugee families. The community continues to struggle.
Things took a turn for the worse for the community when Covid-19 struck. "My son assisted at a local shop for a meagre pay but during the lockdown, the shops were closed. One day I found him crying like the way he did when his dad died," says Harpreet.
When she asked him the reason, he said, "I want to go back to Afghanistan. I cannot find work; I can't sit here and be useless all day. If we're going to die, we're going to die, why not just go back home?"
Harpreet had taken on seamstress tasks but low demand caused that to shut down too. "We live in a rented house. There are bills to pay: electricity, water and phone," says a teary-eyed Harpreet. She says, no organization was providing any support, and even if there was any such support available, she doesn't know how to go about seeking it.
"No one asks about us. It's as if we don't matter," she adds, "no one cares to know how we put food on the table — saada koi puchan wala nahin hai". She goes on, "We moved to Delhi for a better life, but sometimes I wonder if Afghanistan was better."
Similar is the fate of most Afghan refugee families. "The situation in Afghanistan has continued to worsen. Thinking of going back means accepting death. Yet, this thought continues to cross our minds — not just because it is home, but because of what Delhi has given us," says Harpreet.
Also Read | George Everest's Mussoorie home to turn into cartography museum
Earlier this year, 25 Sikhs were killed when a militant attacked a gurdwara in Kabul in the midst of an ardas.
Harpreet's three-year visa will expire next year and she has no clue as to what comes next. Nothing makes sense to her. When asked how she pays the bills, she says, "I sold the 31 rings my husband gave me."
-PTC News