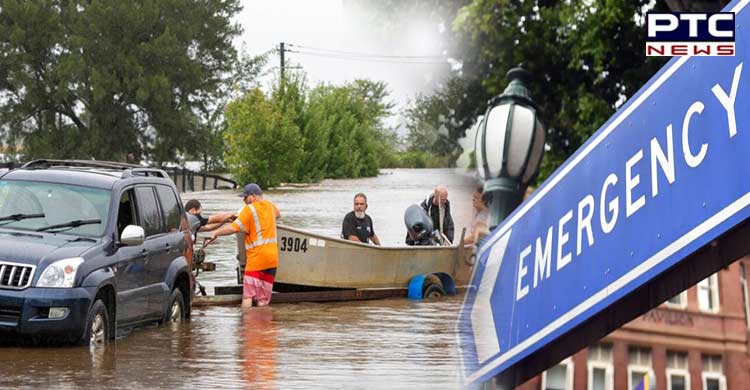 Sydney (Australia), July 3: As Sydney's main dam spilt overnight amid continuous heavy rain, thousands of New South Wales (NSW) residents were ordered to leave on Sunday owing to anticipated strong rainfall that could bring a "life-threatening emergency."

Residents of NSW who reside along the coast between Newcastle and Batemans Bay have been cautioned that wild weather conditions are likely to worsen over the course of the next day as floods once again pound the east coast.
Taking to Twitter, the Bureau of Meteorology, New South Wales announced that "MAJOR FLOODING Hawkesbury River at North Richmond (WPS) may exceed the March 2021, March 2022 and April 2022 flood events SUNDAY NIGHT."
"MAJOR FLOODING OCCURRING AT NORTH RICHMOND WITH RIVER LEVELS POSSIBLY RISING TO THE MARCH 2022 EVENT SUNDAY NIGHT," it added.
The east coast region from Newcastle to Bateman's Bay in the state of New South Wales is predicted to experience heavy rains that might cause flash floods and landslides over the next two days.
"9,500 people are now subject to evacuation orders and warnings, and this number continues to rise. NSW faces a number of dangers: flash flooding, riverine flooding and coastal erosion. I'm encouraging all communities to heed the advice of @NSWSES and @BOM_NSW," New South Wales emergency services minister Steph Cooke said on Twitter.
Thousands of people in low-lying areas in Sydney's southwest have been told to evacuate their houses or risk becoming isolated, according to Cooke, who described the current rainfall and flash flooding as a "life-threatening emergency situation."
Also Read | Manipur landslide: Death toll rises to 34, search operation continues
As a result of an overnight downpour, residents in several areas of Camden, Woronora, Chipping Norton, Georges Hall, Lansvale, Moorebank, Warwick Farm, Penrith, and Emu Plains are among those who are impacted.
Meanwhile, over 1400 calls for help to the NSW State Emergency Service (SES) have been made in the last 24 hours, and emergency services have had to make 29 rescues.
According to the Bureau of Meteorology, numerous regions have received more than 200 millimetres (8 inches) of rain, with some receiving as much as 350 millimetres, raising the possibility of flooding along the Nepean River.
As per water authorities, the overnight spill at Sydney's main dam was triggered by the city's heavy rainfall. Modelling revealed that the spill would be equal to a significant Warragamba Dam spill in March 2021, according to CNN.
"There's no room for the water to remain in the dams. They are starting to spill. The rivers are flowing very fast and very dangerous. And then we have the risk of flash flooding, depending on where the rains are," State Emergency Service Commissioner Carlene York informed.
According to CNN, 29 people have been saved from floodwaters in the past day, including one who spent an hour clinging to a pole as rescuers struggled to get to them.
Also Read | Cylinder blast at UP wedding; 4 dead, several injured
-PTC News