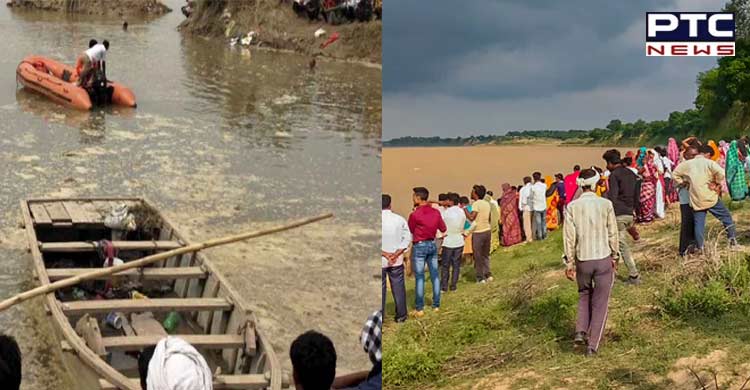 Banda (Uttar Pradesh), August 12: Search operation resumed on Friday after an overloaded boat capsized at Uttar Pradesh's Banda the previous day.

At least three died and 17 people are still missing after the incident. As per the reports, so far 20 people have been rescued.
Meanwhile, Uttar Pradesh CM Yogi Adityanath on Friday announced an ex-gratia of Rs 4 Lakhs each for kins of people who died in the Banda boat capsize incident. He also instructed the officials to provide immediate help and relief to victims.
Moreover, two Ministers Ramkesh Nishad and Rakesh Sachan have been instructed to reach the spot immediately.
Early on Friday morning, rescue efforts by the National Disaster Response Force (NDRF) and State Disaster Response Force (SDRF) teams were resumed after being put on hold overnight due to rain.
"NDRF, SDRF teams here. It's rained thus its become slippery which is causing issue with rescue. Rescue ops aren't conducted at night, we'll begin as soon as dawn hits. 3 bodies have yet been recovered, post mortem being conducted, 17 people still missing," DIG VK Mishra informed on Thursday.
Also Read | Punjab govt transfers 11 IAS, 24 PCS officers
The boat capsized in the middle of the Yamuna river as it was making its way from Marka to Jarauli Ghat in the Fatehpur district. There were up to 40 passengers on the boat at the time of the incident, including 8 women and 4 children.
UP Chief Minister Yogi Adityanath expressed grief over the incident and offered condolences to the victims' families. "The loss of life in the boat accident in Yamuna river under Banda district is very sad and unfortunate. My condolences are with the bereaved families," he tweeted.
Also Read | Home Minister Amit Shah to inaugurate National Conference of Rural Cooperative Banks
-PTC News