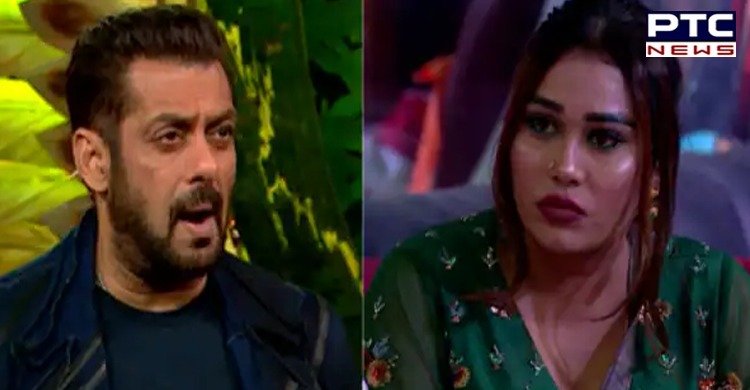 Bigg Boss 15: Salman Khan slammed Afsana Khan for her 'derogatory' remarks against Shamita Shetty and exposed her pattern in the show.

Afsana Khan had age-shamed Shamita Shetty and even indulged in violence with Jay Bhanushali. Afsana is accused of kicking Bhanushali while she also hurled abuse at Shamita several times.
Also Read | Sanyukt Kisan Morcha condemns 'gruesome murder' of Lakhbir Singh at Singhu border 
A new Bigg Boss 15 promo has been released by the channel featuring Salman Khan and the contestants. Salman will be seen lashing out at Afsana Khan for her violent behaviour against everyone inside the house.
View this post on Instagram
Also Read | News of Dr. Manmohan Singh's death is FAKE! He is stable

It may be recalled that Afsana had allegedly torn Akasa's top. While Shamita told Afsana that she had torn Akasa's top, Afsana called Shamita 'disgusting woman'. Also, she had allegedly kicked Jay Bhanushali. Later, she had also hurled a slipper at Shamita which didn't touch her but Afsana was seen as violent this week.

Salman begins by highlighting the things that she said about Shamita Shetty. While Afsana was trying to defend herself, Salman taunts her. Also, he exposed her pattern in the show.
Meanwhile, the housemates cheer the host for finally bringing out her truth in front of everyone.
Vishal Kotian, Shamita Shetty, Jay Bhanushali raise their voices regarding the same. Afsana tried defending herself by saying that she had always respected everyone but the housemates disagree.
View this post on Instagram
Likewise, Akasa said that Afsana feels that she's always right. Simba Nagpal terms her egiost. Then, Salman asks Afsana if she behaves in the same manner inside her own house.
He further said that Bigg Boss 15 doesn't want such kind of content. The promo ends in suspense as Salman said, "Afsana, I am... ... from the house." Bigg Boss fans have been scratching their heads thinking if she has been eliminated.
-PTC News