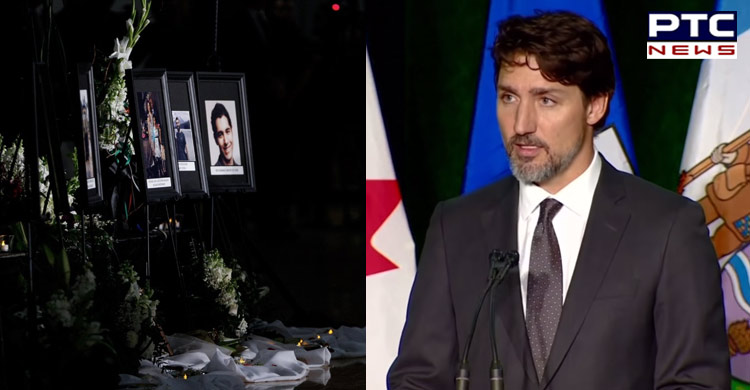 Canadian Prime Minister Justin Trudeau on Sunday said that it's gut-wrenching to hear to stories from relatives of 57 Canadians who died in the Ukrainian plane crash in Iran last week as he attended one of several memorials across Canada.
While speaking at a memorial in Edmonton, Alberta, Trudeau said that he has learned that many of the victims came to Canada seeking new opportunities for their families, but the families are now consumed by grief and outrage.
The Ukrainian plane was shot by an Iranian missile moments after taking off from Tehran. All the 176 people on board were killed, including 63 Canadians. Among those 176 killed, 138 were headed for Canada. Iran admitted that the plane was mistakenly targeted amid the tensions with the United States.

Iran President Hassan Rouhani took to twitter and wrote: "Armed Forces' internal investigation has concluded that regrettably missiles fired due to human error caused the horrific crash of the Ukrainian plane & death of 176 innocent people. Investigations continue to identify and prosecute this great tragedy and unforgivable mistake."
https://www.ptcnews.tv/iran-admits-shooting-ukrainian-plane-hassan-rouhani-on-ukrainian-plane-crash-en/
In another tweet, Rouhani said, "The Islamic Republic of Iran deeply regrets this disastrous mistake. My thoughts and prayers go to all the mourning families. I offer my sincerest condolences." Calling it a tragedy, Justin said, "This tragedy should never have occurred. We will not rest until there are answers. We will not rest until there is justice and accountability."
Meanwhile, Canadian Prime Minister Justin Trudeau said in a tweet: "No words can erase the pain of those grieving, but it is my sincere hope that you can find some comfort in knowing that all Canadians stand with you. You are not alone, and we will continue to stand with you in the days, weeks, months, and years to come."
-PTC News