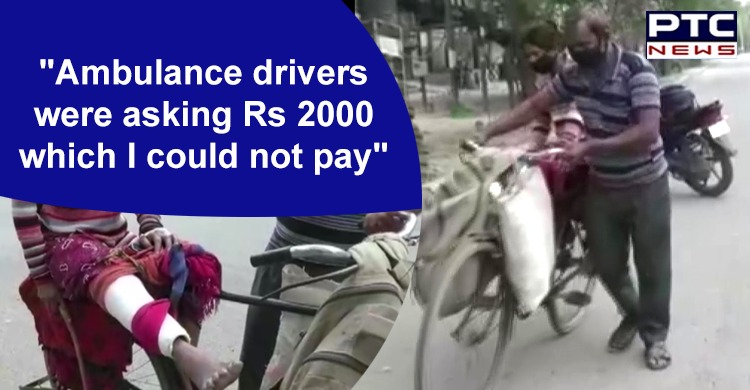 Ludhiana: Amid curfew orders in Punjab, a man carried his injured wife on a bicycle for 12 kilometers from Bharat Nagar to Kanganwal to reach a hospital. The woman got injured during an accident that occurred on March 20 while she was working at a factory.

The man has been identified as Devdutt Ram, husband of the injured woman. He said that "Nobody was ready to drive us to the hospital due to the lockdown. Ambulance drivers were asking for Rs 2000 which I could not pay, so I had to carry her on my bicycle."

The Punjab Government, in an order to prevent the spread of coronavirus, ordered a curfew in the state. Punjab has reported 38 cases so far with the maximum number of cases reported from Nawanshahr. Fresh cases were reported from Hoshiarpur, Mohali and Jalandhar on Friday.
Punjab CM asks police to be humane and sensitive
Amid curfew in the state, there were several videos surfacing on social media in which Punjab policemen were seen beating public for violating the curfew orders. Meanwhile, Chief Minister Captain Amarinder Singh directed the Punjab Police to be humane and sensitive in dealing with the curfew violations.
Also Readd | Coronavirus cases in Punjab rise to 37 after Hoshiarpur and Jalandhar report new cases
Captain Amarinder Singh asked them to find more compassionate ways of handling curfew violations, especially in cases of individuals found moving out for essentials.
-PTC News