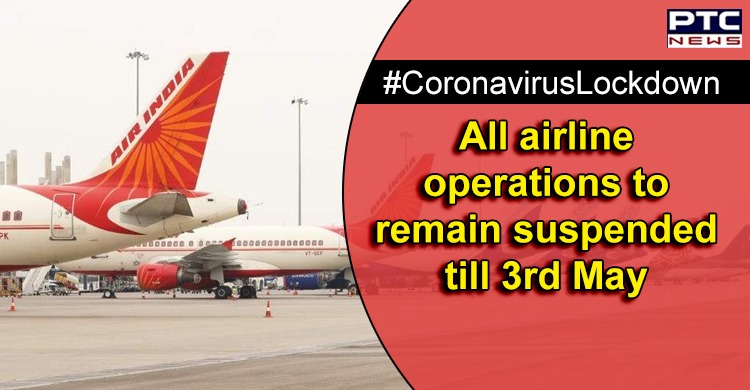 The Ministry of Civil Aviation on Tuesday stated that all the domestic and international scheduled airline operations shall remain suspended till 11.59 pm, 3rd May, in the wake of coronavirus pandemic. Earlier in the day, the Indian Railways also announced the suspension of services till 3rd May. The announcement comes after Prime Minister Narendra Modi announced the extension of lockdown till 3rd May across India.

While announcing the extension, PM Narendra Modi said that "While making new guidelines, the interests of the poor and daily wage workers have been kept in mind. Also, for the harvesting of Rabi crops which is underway the Central Government and State governments are working together to ensure that farmers face minimal problems."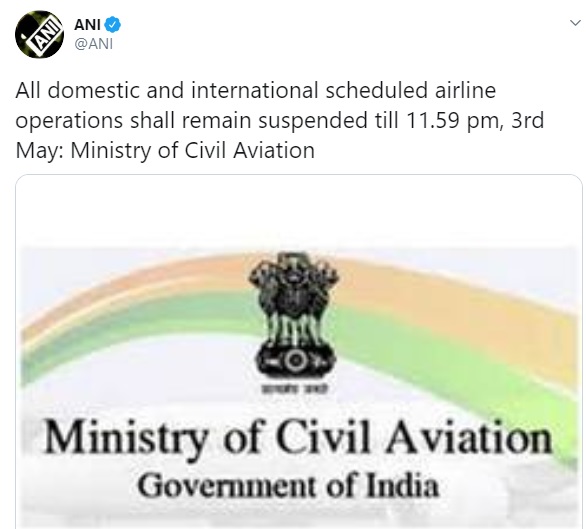 He added that "All districts, localities, states will be closely monitored till April 20, as to how strictly they are implementing norms. The states which will not let hotspots increase, they could be allowed to let some important activities resume, but with certain conditions."

Coronavirus in India
The total number of coronavirus cases in India has been rising. Meanwhile, the total number of coronavirus has surged to 10,363. Meanwhile, 1211 new cases and 31 deaths have been reported in the last 24 hours, as of Tuesday morning. Out of these, 1035 have been discharged after being cured while the death toll has increased to 339, according to the Ministry of Health and Family Welfare.
Also Read | Coronavirus Lockdown Extended: PM Narendra Modi seeks '7 Baaton Mein Aapka Saath' 
The Ministry of Health and Family Welfare stated that "India's total number of Coronavirus positive cases rises to 10,363 (including 8988 active cases, 1035 cured/ discharged/ migrated and 339 deaths)."
-PTC News