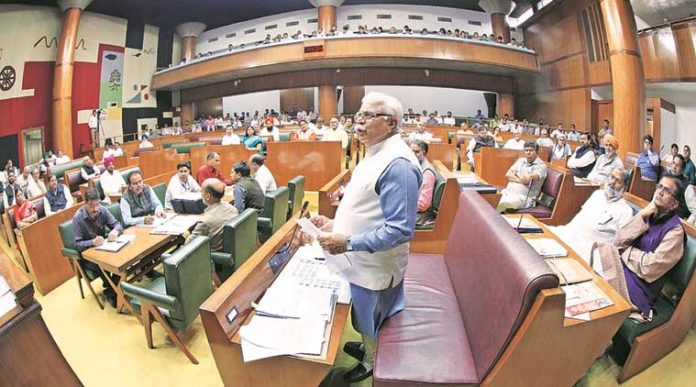 Haryana assembly pays tribute to Vajpayee, Kerala flood victims
On the first day of monsoon session, Haryana assembly Friday paid rich tributes to late Prime Minister A B Vajpayee, describing him as a "statesman and an "ardent champion of the weaker sections' causes."
The House also made obituary reference to other leaders, who died in the interregnum since the House met last in March this year, besides the people, who lost their lives in  the floods that ravaged Kerala and other parts of the country.
The departed leaders who were paid rich tributes included Lok Sabha Speaker Somnath Chatterjee, former Tamil Nadu Chief Minister M Karunanidhi, former Chattisgarh Governor Balramji Dass Tandon, former MP Ramchandra Bainda and former Haryana ministers Shyam Chand and Jai Singh Rana.
The House made obituary references to Jind MLA Hari Chand Middha, and former legislator MLA Gauri Shanker also.
It also paid tributes prominent Hindi poet Gopaldas Neeraj, veteran journalist and parliamentarian Kuldip Nayyar and martyrs of Haryana in Army and other central police organisations and observed two-minute silence as a mark of respect to all the departed souls.
The session began with Chief Minister Manohar Lal Khattar reading out obituary references.
Paying Homage to Vajpayee, Khattar emotionally recalled his poems saying "his poetry was marked by nationalistic fervour and human values and inspired a sense of duty and social responsibility."
He said Vajpayee, by adding 'Jai Vigyan' to the 'Jai Jawan-Jai Kisan' slogan after the five nuclear tests at Pokharan in May 1998, he signalled India's rise as a global power.
Recalling his steps for the welfare of farmers, Khattar said Vajpayee initiated Kisan Bima and Kisan Credit Card schemes for peasants and gave new direction to the rural development.
"He had a strong sense of self respect, discipline and was straight forward," said the Chief Minister.
"Despite reaching the zenith of his political career, he stayed rooted to the ground and lived a life of simplicity," said Khattar, adding "He struggled selflessly for fulfilment of the needs of the common man…. He was a man with no enemy."
Paying tributes to Vajpayee, Congress legislature party leader Kiran Chowdhary said, "He was not only a great statesman, a wonderful poet, but also a gracious host and a very humble human being, which endeared him to the masses."
Former Chief Minister Hooda recalled with pride that three generations of his family, including his late father, Chaudhary Ranbir Singh, he himself and his son Deepender Hooda had the luck of being Vajpayee's colleagues in the Parliament.
"He was a statesman. Both Pandit Jawahar Lal Nehru and Vajpayee commanded great respect and popularity in their own parties and the Opposition," Hooda said.
Also Read: After Haryana, SAD Set To Enter Electoral Politics In UP And Rajasthan – Sukhbir Badal