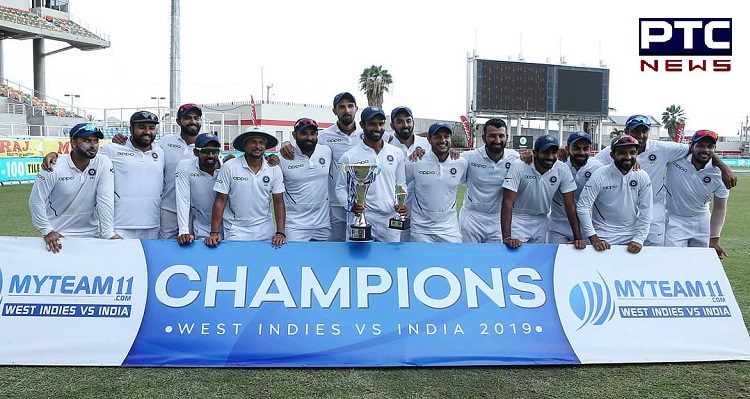 India vs West Indies 2nd Test 2019: Virat Kohli-led Team India whitewash Windies with an emphatic victory in two-match Test series. India defeated the hosts in the 2nd Test against West Indies by 257 runs at Sabina Park, Kingston in Jamaica. Likewise, India crushed the hosts by 318 runs in the Antigua Test. In the Jamaica Test, Hanuma Vihari has been rewarded as Man of the Match for his maiden Test hundred in the first innings and the half-century in the second innings.
https://www.youtube.com/watch?v=T-5oH4oqYIw
Virat Kohli, the man who has surpassed MS Dhoni to become India's most successful Test Captain. Let's make time travel – Virat Kohli made debut in Tests against West Indies in 2011. Likewise, Kohli in 2016 smashed maiden Test double century. And in 2019, Virat Kohli emerged as India's most successful Test captain.
https://www.instagram.com/p/B1662rjgGKV/
Virat Kohli so far has won 28 Test matches including the recent Jamaica Test. However, MS Dhoni had won 27 Test matches out of 60 matches played.
India vs West Indies 1st Test 2019 Highlights: Virat Kohli and team crush the hosts by 318 runs
Following Kohli and Dhoni, it's Sourav Ganguly, who have won 21 Test matches out of 49 played under his captaincy. Victorious India will now prepare for the next battle against South Africa.
https://www.instagram.com/p/B16xr0wgXWP/
Meanwhile, India is on the top of the ICC World Test Championship by 120 points. Following India, New Zealand is at the second position, while Sri Lanka is in the third position. Likewise, Australia and England are currently down the chart on fourth and fifth position respectively.
-PTC News