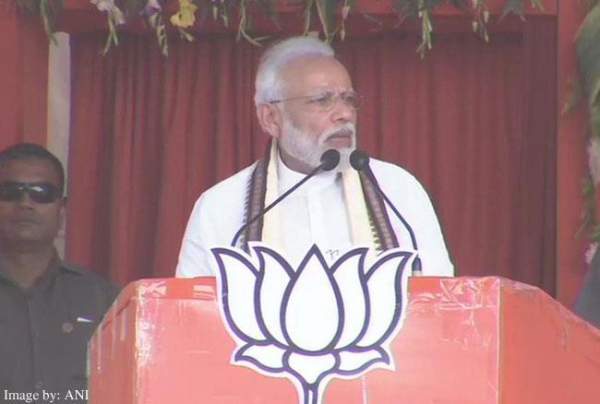 Recounting the achievements of the BJP government at the Centre in the last five years, Prime Minister Narendra Modi on Wednesday launched another attack on the Congress, its senior leaders and its policies.
Referring to the 1984 anti-Sikh riots in the national capital, parts of Haryana and Punjab, the prime minister said that the process of punishing the guilty Congress leaders at the behest of whom 3,000 Sikhs had been brutally murdered and several others displaced, had already been initiated by the BJP government.
Prime Minister Modi said the Congress had made a leader accused in the 1984 riots the chief minister of a state after winning the assembly elections last year instead of ensuring that he was punished. The prime minister's swipe was aimed at Madhya Pradesh chief minister Kamal Nath, who the BJP alleges, had a role to play in the riots. Kamal Nath has rejected the charge on multiple occasions.
Ten Lok Sabha seats of Haryana will go to polls on May 12 as part of the sixth phase of the Lok Sabha elections. PM Modi was speaking at an election rally in Fatehabad under the Sirsa Lok Sabha seat, where the party has nominated Sunita Duggal as its candidate.
"The Congress and its mahamilawati allies have already given up the battle in anticipation of the election results on May 23. In Delhi, their intentions of forming a 'khichri-waali' sarkar will not see the light of day. The BJP government is working round-the-clock to make India a superpower in the near future," the prime minister assured the crowd.
Once again making a veiled reference to the recent surgical strikes carried out by the Indian armed forces in Balakot in Pakistan, PM Modi questioned, "Can any country become a strong global power without strengthening its defence infrastructure first? The international community will never give serious attention to a country which cannot defend its own people."
"The Congress and its allies despite being in power for a very long time could never defend the country and were soft on terror," the prime minister alleged. "Have they ever spoken about the defence of the nation in any of their election rallies? They have not. Their past is such that they are not even bothered about the defence sector," he said.
Asking the people of Haryana to bring the BJP back to power with a strong mandate, PM Modi said that it was because a strong government had been voted to power in 2014, that the country was safe and secure and terrorism had been effectively dealt with.