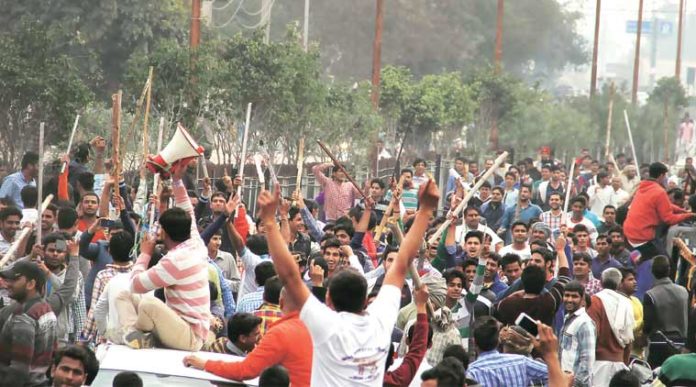 Jats flay Haryana govt for "misguiding" court, threaten to re-start agitation
Jat leaders on Wednesday accused Haryana's Manohar Lal Khattar government of "misguiding" high court by presenting "incorrect information" so that the cases against community members registered following the 2016 arson and violence in the state during agitation for reservation could not be withdrawn.
They also threatened to re-start their agitation for their demands including quota in the state.
The Punjab and Haryana High Court on August 30 had restrained the Haryana government from pursuing withdrawal of 407 FIRs registered in pro-quota violence cases of February 2016.
The court had directed the judicial officers in Haryana not to proceed further in the cases where cancellation reports have been filed by police.
"The government presented incorrect facts in the Punjab and Haryana High Court and misguided it following which the court restrained the Khattar dispensation from withdrawal of criminal cases against Jats registered post 2016 violence," All India Jat Aarkashan Sangarsh Samiti president Yashpal Malik said at Rohtak.
He charged the Haryana government with misguiding court to save its ministers, legislators and MPs who were "instrumental" in arson and violence during the Jat agitation in 2016.
"False cases were registered against Jats after the violence," he said after chairing a meeting of the organisation's state office bearers here.
The government is presenting "incorrect facts" in the Punjab and Haryana High Court so that the Jats could not get justice, he said.
He said that the government is deliberately dilly dallying the benefit of reservation for the Jats in the state.
"There is an undeclared emergency in the state," he said, while vowing to re-start the agitation by the members of the community across the state.
Malik said the meeting decided to ask the members of the community to get ready for a fresh agitation through "peaceful" manner.
It has also been decided to make electorate in poll-bound Rajasthan and Madhya Pradesh aware about "atrocities" on Jats in Haryana, he said.
In Haryana, Jats are a politically influential community and constitute nearly 29 per cent of the population.
Jats, Jat Sikhs, Rors, Tyagis and Bishnois, are seeking reservation under the Other Backward Classes(OBC) category.
The Haryana government has given special backward status to Jats with 10 per cent quota to five castes.
However, the Supreme Court has set aside the notification that granted OBC status to Jats.
At least 30 people had died and damage worth thousands of crores was witnessed to public and private properties during more than a week-long violent protests by members of Jat community in February 2016 in Haryana.
Also Read: Haryana wants use of Hindi language in judicial procedure in HC