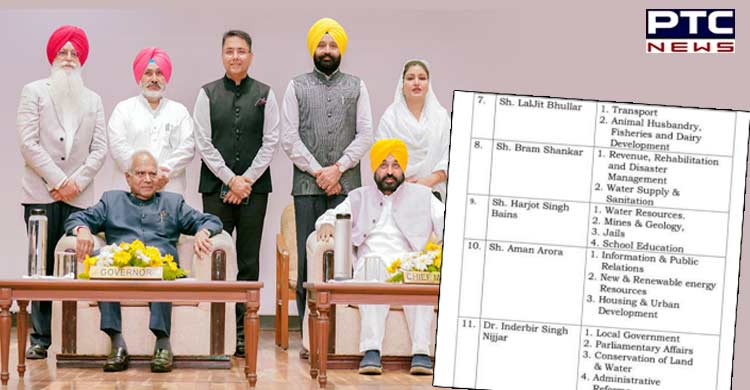 Mohali, July 5: Punjab Chief Minister Bhagwant Mann on Tuesday allocated portfolios to five new Cabinet ministers, who were sworn in on Monday.
Two-time AAP MLA from Sunam Aman Arora has been given Information & Public Relations; New & Renewable energy Resources and Housing & Urban Development
MLA from Amritsar South Dr Inderbir Singh Nijjar has been given Local Government; Parliamentary Affairs;  Conservation of Land & Water and  Administrative Reforms.
MLA from Guruharsahai Fauja Singh Sarari  has been given Freedom Fighters; Defence Services Welfare; Food Processing and Horticulture.
Chetan Singh Jauramajra, who represents Samana in the Legislative Assembly, has bene allotted Health & Family Welfare; Medical Education & Research and Elections departments. Kharar MLA Anmol Gagan Maan has been given Tourism & Culture Affairs; Investment Promotion; Labour and Removal of Grievances.
Watch LIVE
Complete List
ਮੰਤਰੀ ਮੰਡਲ ਵਿਸਥਾਰ ਤੋਂ ਬਾਅਦ ਨਵੇਂ ਅਤੇ ਪੁਰਾਣੇ ਸਾਥੀਆਂ ਨੂੰ ਵਿਭਾਗਾਂ ਦੀ ਵੰਡ ਦੀ ਜਾਣਕਾਰੀ ਤੁਹਾਡੇ ਨਾਲ ਸਾਂਝੀ ਕਰ ਰਿਹਾ ਹਾਂ…

ਮੈਨੂੰ ਪੂਰਨ ਆਸ ਹੈ ਕੀ ਇਹ ਟੀਮ ਪੂਰੀ ਇਮਾਨਦਾਰੀ ਦੇ ਨਾਲ ਪੰਜਾਬ ਦੇ ਲੋਕਾਂ ਦੀ ਸੇਵਾ ਕਰੇਗੀ ਅਤੇ ਰੰਗਲਾ ਪੰਜਾਬ ਬਨਾਉਣ 'ਚ ਅਹਿਮ ਭੂਮਿਕਾ ਨਿਭਾਏਗੀ…
ਸਾਰਿਆਂ ਨੂੰ ਮੇਰੇ ਵੱਲੋਂ ਸ਼ੁਭਕਾਮਨਾਵਾਂ pic.twitter.com/Wa6Q2R4mEN

— Bhagwant Mann (@BhagwantMann) July 5, 2022
-PTC News