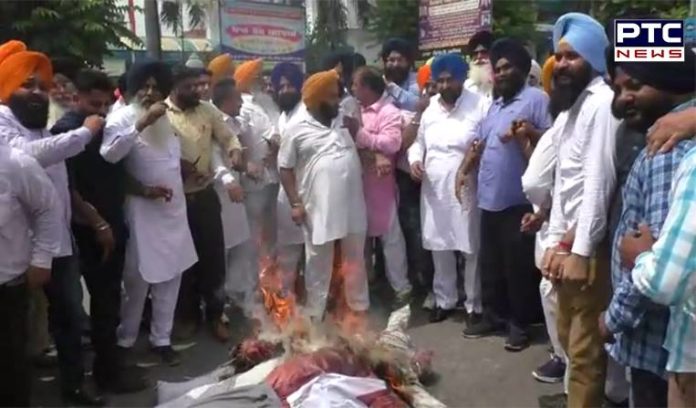 The Shiromani Akali Dal workers held a protest against Punjab Chief Minister Captain Amarinder Singh by burning his effigy in Ludhiana, Punjab, here on Saturday.
The workers also burnt effigies of Congress President Rahul Gandhi, Sunil Jakhar and Justice Ranjit.
The Akali workers held the protest under the leadership of Maheshinder Singh Grewal.
The protest by SAD is being held across Punjab against the ruling Congress and Aam Aadmi Party (AAP).
The Shiromani Akali Dal is holding a statewide protests in all the 117 assembly constituencies on Saturday. It will also hold a 'Pol Khol' rally in Abohar on September 9 to highlight the alleged conspiracy hatched by the Punjab Congress government against it.
Speaking here on Friday, Akali leaders Sukhdev Singh Dhindsa, Balwinder Singh Bhundur, Tota Singh and Sewa Singh Sekhwan said the Congress party believed in divide and rule and was targeting the Sikh panth and trying to divide the community.  They accused the ruling party of leading a malicious campaign against the former chief minister. Instead of pointing fingers at Badal, chief minister Amarinder Singh should explain why he was talking with the Centre on the eve of Operation Bluestar.
-PTC News