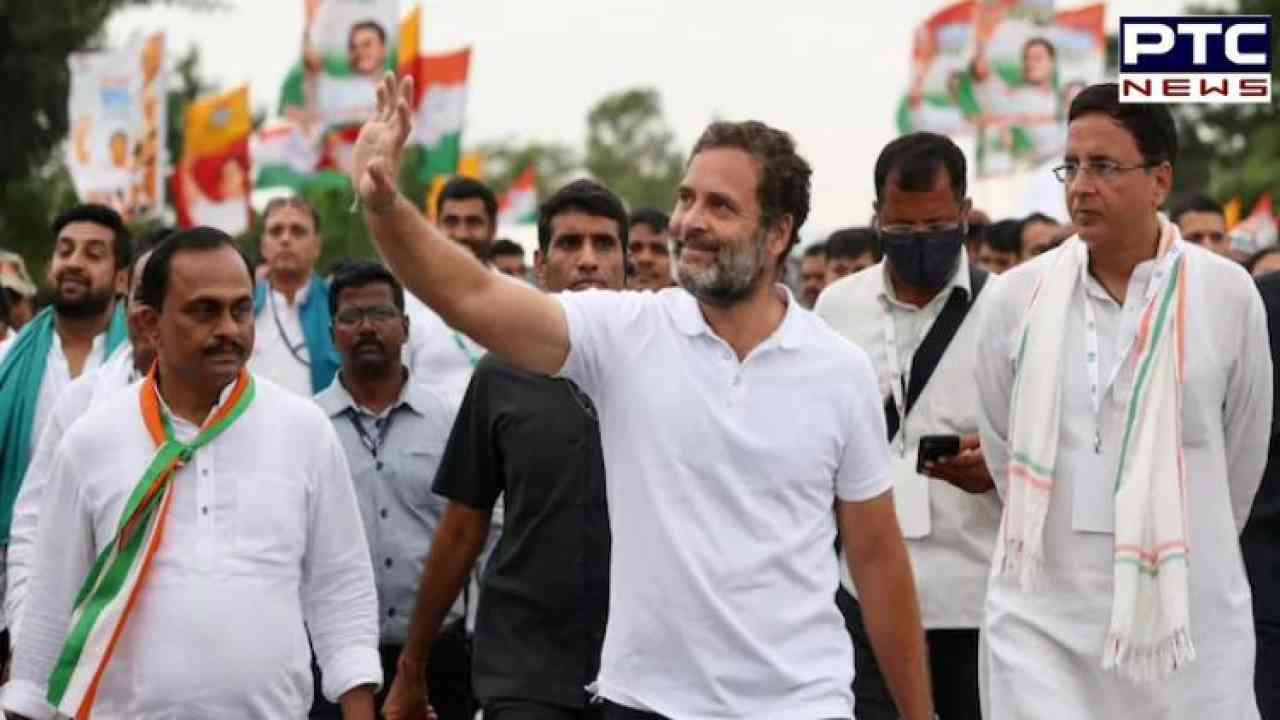 Nanded (Maharashtra), November 8: Congress leader Rahul Gandhi stated on Monday that Prime Minister Narendra Modi's policies have "broken the backbone" of small businesses while benefiting select businessmen.
Rahul Gandhi made the remarks while speaking to a crowd in Maharashtra after the Bharat Jodo Yatra began its Maharashtra leg on Monday evening, the 61st day of the march. He slammed the Centre over unemployment, claiming that the country cannot employ its youth.
"No force can stop the 'Bharat Jodo Yatra' in between. The yatra will only stop in J-K's Srinagar and we will hoist the tricolour there. The target of this yatra is to unite India and also to raise voice against the hatred, anger and violence that are being spread across the country. Unemployment is increasing in the country. PM Modi's wrong policies like demonetisation, and GST, have broken small businesses, and farmers who were the backbone of employment. The truth of India is that the country cannot give employment to its youth," he stated.
Also Read | Temporarily block handles of Congress, Bharat Jodo Yatra: Bengaluru court to Twitter
Further saying that the Prime Minister does not talk about inflation, the Wayanad MP claimed that the government extends all the profit to a handful of people.
"The Prime Minister earlier used to complain about the price of gas cylinders becoming Rs 400, today it is more. But he does not complain today. Earlier he used to talk about diesel and petrol, today the price of petrol is over Rs 100, but he does not talk about it. The government extends all the profit to selected two-three people. We are on the roads for such issues," he added.
Taking to Twitter, the Congress leader said, "Black money did not come, only poverty came. Economy does not become cashless instead weakened. Terrorism did not end. Crores of small businesses and jobs were lost during demonetisation. The 'Raja' did the DeMo-lition of the economy with the promise of '50 days'."
The yatra has already covered parts of Kerala, Karnataka, Andhra Pradesh, Tamil Nadu and Telangana.
Rahul Gandhi arrived in Maharashtra on Monday at Madnur Naka in the Nanded district of Degloor.
The Maharashtra Congress Committee has made extensive preparations. They are also attempting to achieve massive success in Maharashtra.
The Nationalist Congress Party (NCP) and the Shiv Sena (Thackeray faction) have agreed to participate in the yatra, increasing its significance.
On Tuesday, NCP supremo Sharad Pawar will join the yatra for massive outreach.
Pawar will walk less than a mile because he is receiving treatment at Mumbai's Breach Candy Hospital. Shiv Sena Chief Uddhav Thackeray and former minister Aaditya Thackeray have yet to confirm their schedules, but both are expected to join Rahul Gandhi.
Also Read | Govt issues guidelines for sugar export for 2022-23
- ANI