Thiruvananthapuram, April 25: Prime Minister Narendra Modi flagged off Kerala's first Vande Bharat Express on Tuesday, which will run from Thiruvananthapuram to Kasargod.
PM Narendra Modi flagged off Vande Bharat Express at Thiruvananthapuram Central Station. Kerala Chief Minister Pinarayi Vijayan, Congress MP Shashi Tharoor and Governor Arif Mohammed Khan were present on the ocassion.
According to Prime Minister's Office, the Vande Bharat train will cover 11 districts namely Thiruvananthapuram, Kollam, Kottayam, Ernakulam, Thrissur, Palakkad, Pathanamthitta, Malappuram, Kozhikode, Kannur and Kasargod.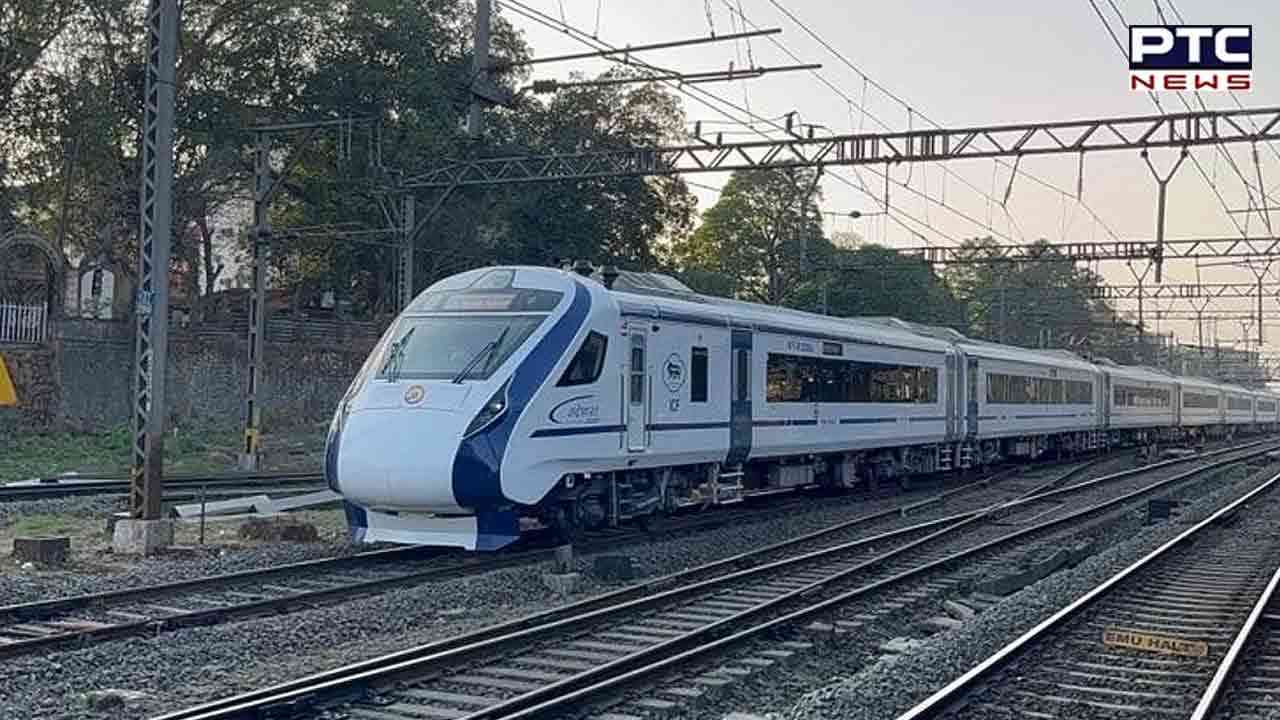 Ahead of the inauguration, PM Modi took to his twitter account on April 23, and wrote, "I am eager to be among the people of Thiruvananthapuram on the 25th. Kerala's first Vande Bharat Express would be flagged off, which will run between Thiruvananthapuram and Kasargod. 11 districts of Kerala will be covered. It will greatly benefit tourism and commerce."
How Vande Bharat Express is different from other trains

Vande Bharat Express is an indigenously manufactured, semi-high-speed, self-propelled train set. The train has state-of-the-art passenger amenities, providing passengers with a faster, more comfortable and more convenient travel experience.
The inaugural run
On its inaugural run, Vande Bharat Express departed from Thiruvananthapuram Central railway around 11 am. During its journey on Tuesday, it would stop at 14 stations — Kollam, Kayamkulam, Chengannur, Tiruvalla, Kottayam, Ernakulam Town, Chalakudi, Thrissur, Shoranur Junction, Tirur, Kozhikode, Thalassery, Kannur, and Payyanur.
Inaugural run timings of Kerala's first Vande Bharat Express

During its inaugural run, the new Vande Bharat Express will halt for a duration of two minutes at these 14 railway stations. On this day, the train would reach the destination in 10 hours and 45 minutes.
Arrival at Kollam – 11:29 hrs
Arrival at Kayamkulam – 12:07 hrs
Arrival at Chengannur – 12:29 hrs
Arrival at Thiruvalla – 12:40 hrs
Arrival at Kottayam – 13:35 hrs
Arrival at Ernakulam Town – 14:42 hrs
Arrival at Chalakudi – 15:25 hrs
Arrival at Thrissur – 15:52 hrs
Arrival at Shoranur Junction – 16:39 hrs
Arrival at Tirur – 17:36 hrs
Arrival at Kozhikode – 18:33 hrs
Arrival at Thalassery – 19:44 hrs
Arrival at Kannur – 20:01 hrs
Arrival at Payyanur – 20:23 hrs
Also Read | Vande Bharat Express: Know train routes in India, timings, other details
- With inputs from agencies