Kohima, February 27: On Monday, people of Nagaland and Meghalaya are casting their votes in the assembly elections to elect a new government. The voting is being conducted amid tight security, as it began on 59 constituencies at 7 a.m.

The bypolls on two assembly seats in Maharashtra Chinchwad and Kasba Peth were held on Sunday.
The electoral fates of 183 candidates of various parties will be sealed as the voting would continue till 4 pm on Monday. People were seen thronging to cast their votes early morning. The state had witnessed nearly 75 per cent voter turnout in the 2018 Assembly polls and 90.57 per cent in 2013.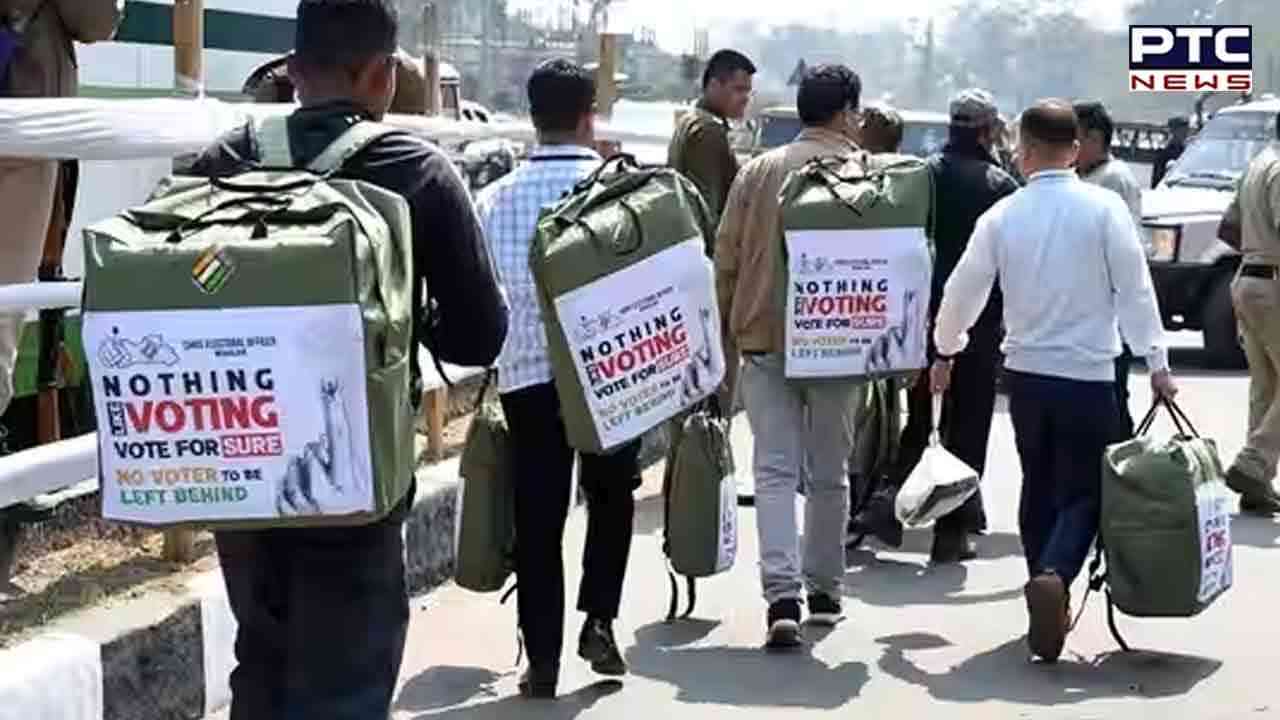 Also Read: Delhi liquor policy: CBI arrests Delhi DY CM Manish Sisodia
During the high-decibel election campaign that ended on Saturday, all the contesting parties made a last-ditch effort to win over the voters in bid to swing their mandate in their favour. Many top Bharatiya Janata Party leaders, led by Prime Minister Narendra Modi and Union Home Minister Amit Shah canvassed for party candidates during the last leg of the campaigning.
The voting is underway in 59 out of 60 Assembly constituencies, as BJP candidate Kazheto Kinimi was declared winner uncontested from Zunheboto district's Akuluto constituency after his opponent from the Congress, N Khekashe Sumi, pulled out of the race on the last day for withdrawal of nominations, which was February 10.
In Monday's polls, the BJP is contesting in alliance with the Nationalist Democratic Progressive Party (NDPP), its old alliance partner in the 2018 Assembly polls as well.
The BJP will, however, will be the role of a junior partner, having agreed to a seat-sharing ratio of 20:40 in the state. The Congress and Naga People's Front are contesting in 23 and 22 seats respectively. The CPI is contesting on 1, NCP on 12, NPP 12, RPP 1, JD(U) 7, LJP (Ram Vilas) 15, RPI (Athawale) 9, RJD 3, and Independents 19 seats.
The party had forged an alliance with the NDPP in 2018 and had successfully formed an alliance government with the backing of Janata Dal (United) and an Independent. The BJP had won 12 seats while NDPP had registered a win on the 17 seats, while the JD(U) clinched 1 seat.
During the poll campaign, NDPP campaigners and Chief Minister Neiphiu Rio was seen doing public rallies in almost all the constituencies.
NPF leader Kuzholuzo Nienu has declared he is open to post-poll public rallies with other parties and candidates.
Congress president Mallikarjun Kharge also addressed an election rally in Dimapur while party MP Shashi Tharoor addressed a rally in Kohima.
The Congress has also announced that they can opt for a post-poll alliance if required.
There are a total of 13,17,632 electorate in Nagaland, of which 6,61,489 are men and 6,56,143 are women.
A total of 2,351 polling stations have been set up in the state.
Merapani polling station no. 71 under the Bhandari assembly constituency in the Wokha district has the lowest number of electors at 37.
According to the Election Commission, 305 companies from various security forces have been deployed at the polling stations across the state to ensure a smooth and fair voting process.
Chief Election Officer, Nagaland V Shashank Shekhar (IAS), Home Commissioner Nagaland Abhijit Sinha (IAS), and Nagaland Director General of Police, Rupin Sharma (IPS), visited Wokha district on February 25 and held a series of meeting with the district administration, Police, Political Parties and civil societies organisations of Wokha district at the office chamber of the Deputy Commissioner & District Election Officer, Wokha. Representatives of BJP, NCP, JDU, NDPP, and NPF attended meeting with political parties.
However, according to the Commission, the visit was against the backdrop of certain incidents of pre-poll violence in some districts of the state, including Wokha.
"The chief electoral officer of Nagaland, Home commissioner, Nagaland, and DGP, Nagaland reviewed the law and order in the district and held consultations with the various political parties and civil societies for maintaining a peaceful atmosphere and conduct of free and fair elections. The visiting officials appealed to the leaders to sensitize the public to maintain peace and not to indulge in any election-related violence," an official statement said.
According to the EC, CCTV surveillance has been installed in all the critical/vulnerable polling stations across the state with either webcasting or videography.
"A minimum of 50 per cent of polling stations in each district are being covered," Chief Election Officer, Nagaland, V Shashank Shekhar, said.
- ANI