New Delhi, April 24: Top Indian wrestlers, including Vinesh Phogat, Bajrang Punia, Sakshee Malikkh, Ravi Dahiya, and Deepak Punia, who earlier this year protested against the Wrestling Federation of India (WFI) chief and other trainers, accusing them of sexually exploiting women wrestlers, are back at Delhi's Jantar Mantar with a fresh police complaint.
Seven women wrestlers have filed a sexual harassment complaint against federation chief Brij Bhushan Sharan Singh at the Connaught Place police station in Central Delhi. The wrestlers have stated that they have faith in the Prime Minister but are frustrated that a government panel report on the issue hasn't been made public yet. As a result, they have declared that they "won't leave from here until Brij Bhushan is arrested".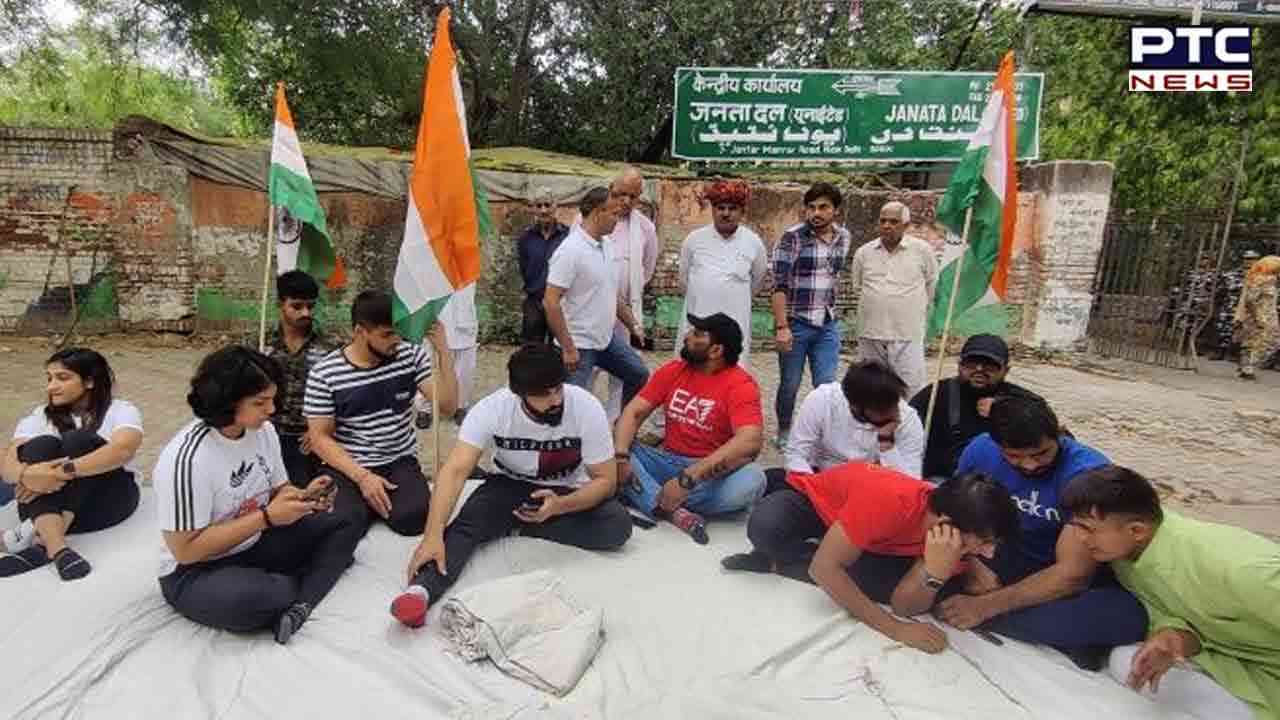 Also Read: Sachin Tendulkar reflects on his legendary journey at 50
Vinesh Phogat also said that they are not getting any response from the government despite repeated attempts, and they will "sleep and eat here till they get justice".
The Sports Ministry had formed a five-member oversight committee, headed by legendary boxer MC Mary Kom, in January, and asked it to submit its findings in one month. Later, it extended the deadline by two weeks and also added Babita Phogat to the probe panel as its sixth member on the insistence of the protesting wrestlers. The committee submitted its report in the first week of April, but the ministry is yet to make its findings public.
The Delhi Commission for Women has issued a notice to Delhi Police for failing to register an FIR in the matter. The wrestlers had complained to the Commission that they have given a written complaint to the Delhi Police two days back, but their FIR has not been registered so far.
Brij Bhushan Sharan Singh, who is a BJP MP, has refuted the charges, saying that he will commit suicide if the accusations are found to be true. He has served three four-year terms as president in a row and according to the Sports Code after completing 12 years as WFI chief, he is ineligible to contest for the top post.
Also Read: Kedarnath Dham Yatra: Advisory issued for pilgrims in view of rain, snowfall
The protest began on January 18 with triple Commonwealth Games gold medallist Vinesh Phogat, one of India's most decorated women wrestlers, going public with the charges. Phogat said she never faced such exploitation herself, but claimed many wrestlers were intimidated from coming forward because of their humble backgrounds.
Awaiting a report by a government panel on the sexual harassment allegations against him, Brij Bhushan Sharan Singh has said that he will not contest for the president's post in WFI election on May 7 but hinted that he might look for a new role within the federation.
- With inputs from agencies