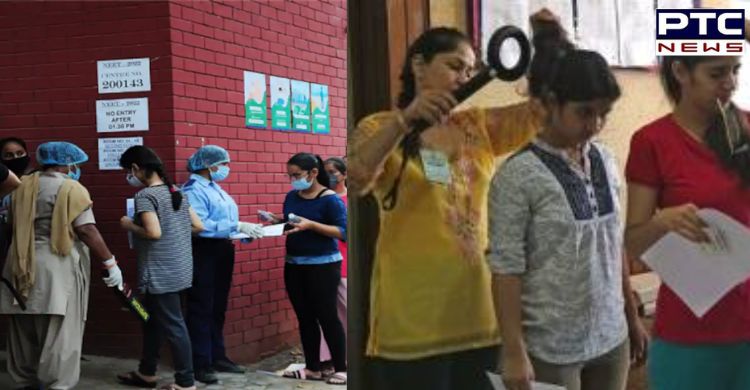 Kerala, July 20: The police on Tuesday arrested five people for allegedly forcing girl students to remove innerwear before attending the National Eligibility-cum-Entrance Test (NEET) in Kerala's Kollam.

The incident reportedly took place at Mar Thoma College in Kollam on Monday, following which the father of a girl student filed a complaint the next day.
Among the arrested, three are from the NTA, the agency which conducts the entrance exam and two from the college where the incident took place.
Earlier on Tuesday, Kerala police filed a case in this matter under sections 354 and 509 of the Indian Penal Code at the Chadayamangalam police station under the Kollam Rural police district.
The incident came to light on July 18, after a student filed a complaint with the Superintendent of Police at Kollam after the NEET exam for undergraduate medical courses.
The student, In her complaint, alleged that she was asked to remove her innerwear before entering the examination hall.
According to reports, the parent of the student alleged that girls were forced to remove their innerwear before being permitted to sit for the exam. They had to give the exam along with other students who were boys as well as male invigilators, which made the girls uncomfortable and affected their performance.
"My daughter has been preparing for the NEET exam since 8th grade. We were confident that she would achieve a good rank on the test but due to this issue she was unable to concentrate and couldn't properly write the exam," the anguished father of a girl student said.
Also Read | For first-time ever, Rupee hits all-time low of 80 against US dollar
The parent cited the National Testing Agency's guidelines and said that there was no mention of a ban on any type of brassiere (bra) and hooks in the guidelines set by the NTA, which conducts the NEET.
"They were very uncomfortable. The guideline issued by NTA had not mentioned any ban on bras and hooks. We were following all guidelines. But the staff did not allow them to enter the classroom without removing inner-wear," he further said.
Meanwhile, the NTA in a statement said that the exam centre's superintendent, the independent observer, as well as city coordinator (NEET) of the Kollam district, did not find any such incident happening at the examination centre.
"Centre Superintendent and Independent Observer as well as City Coordinator, Kollam district has stated that they did not find any such incident happening in the NEET examination centre (Mar Thoma Institute of Information Technology, Kollam). The candidate did take the exam," the NTA officials stated.
However, NTA constituted a Fact Finding Committee to visit Kollam to investigate the matter.
Also Read | Shiv lingam melts before Amarnath yatra concludes
-PTC News