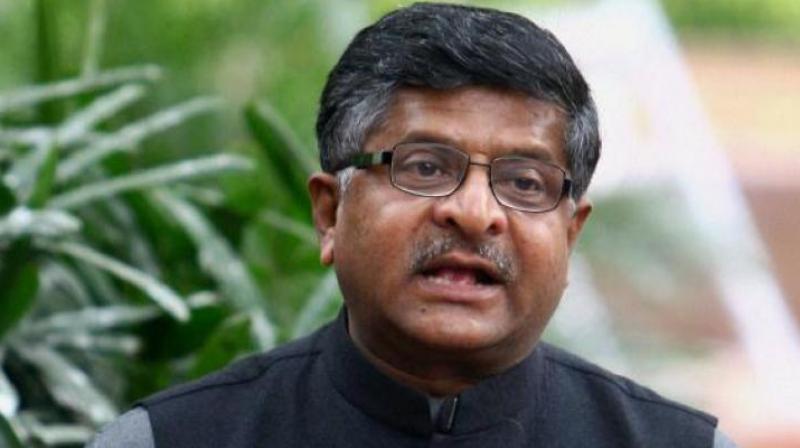 Bengaluru: Union Minister Ravi Shankar Prasad on Saturday clarified his controversial 'Muslim sanctity' comment, saying that the government does not believe in vote bank politics.
He had earlier received a lot of flak for his statement that Muslims do not vote for the Bharatiya Janata Party (BJP) despite the Centre giving them 'proper sanctity'.
"Our government firmly believes in 'Sabka Saath, Sabka Vikas' and when we say that, we don't take into account any consideration of vote bank politics. The government of Narendra Modi is wedded for the development of all and that's what we are doing; be it Hindus, Muslims or Sikhs, be it any part of the people of the India. We are wedded for the complete development of all," Prasad said.
Highlighting the example of Imran Khan, a Sanskrit teacher from Alwar in Rajasthan, who was mentioned by Prime Minister Narendra Modi in his address at Wembley in 2015, the Union Minister asserted that so many young Muslims are doing well and that the Centre was doing everything to help them prosper.
"We are committed to make India a country of inclusion and development," he added.
Making it clear that the BJP does not believe in vote bank politics, Prasad added that the Centre believes in all round development without being affected by vote bank considerations.
Earlier, All India Majlis-e-Ittehadul Muslimeen (AIMIM) president Asaduddin Owaisi termed the Union Minister's statement as 'unfortunate', stating that it's not Ravi Shankar Prasad who has given Muslims proper sanctity but the Constitution.
Owaisi said, "We gave them sanctity? Who are 'We'? It is the Constitution that has given rights, our rights are protected under that."
Asserting that the Constitution is supreme, Owaisi said that Ravi Shankar's work is to implement those constitutional rights.
"In a democracy like India, we have got full freedom to choose our leaders. Ravi Shankar needs to understand that the Constitution is supreme," he added.
Echoing similar sentiments, Congress leader Salman Khurshid said he saw no reason why someone should feel that a particular segment of society is unable to vote for them.
"I see no reason why someone should feel that a particular segment of society is unable to vote for them. We should see who does not vote for us and find why, and see if it can be addressed. Don't know from where 'sanctity' has come in," Khurshid commented.
Chiming in the case, Communist Party of India (Marxist) General Secretary Sitaram Yechury reminded Prasad that 'sanctity' to Muslims is not charity.
Yechury wondered, "What do you mean by sanctity? Is the law minister doing charity by giving sanctity? The sanctity is provided by the Indian constitution. It is not charity of any minister. Let them not talk in these terms because there is very unbecoming of being a minister."
While addressing a function in New Delhi on Friday, Prasad said that the BJP, which is ruling the country and has its own 13 chief ministers, didn't victimise any Muslim despite knowing they don't vote for BJP.
"Have we victimised any Muslim gentleman working in industry or service? Have we dismissed them? We don't get Muslim votes. I acknowledge very clearly, but have we given them proper sanctity or not?" Prasad told the gathering.
— ANI