Odisha Hockey Men's World Cup: India, Belgium share honours
India and Belgium shared honours and points with a 2-2 draw in their crucial pool C game in the Odisha Hockey Men's World Cup at Kalinga Stadium in Bhubaneswar on Sunday. The draw keeps India at the top of the table with better goal average.
If Belgium wrested the initiative by scoring the first goal, India came from behind in the second half to build a 2-1 lead before squandering the advantage three minutes from the final whistle.
Also Read: Odisha Hockey Men's World Cup: Defending champions Australia manage to get past Ireland
While Harmanpreet, who converted a penalty stroke, and Simranjit Singh, were the scorers for the home team, Alexander Hendrickx and  Simon Gaugnord did honours for Belgium. Though the game witnessed some superb hockey in the second half, yet at times, both teams blew away their chances.
The high pressure game saw the Belgium dominating the first half and the home team wresting the advantage in the second. Belgium's move in the 56th minute to replace goalkeeper with an extra offender paid dividends as when it  got the equaliser, it was without a goalkeeper. India, however, could not take advantage of the situation in last four minutes of the game.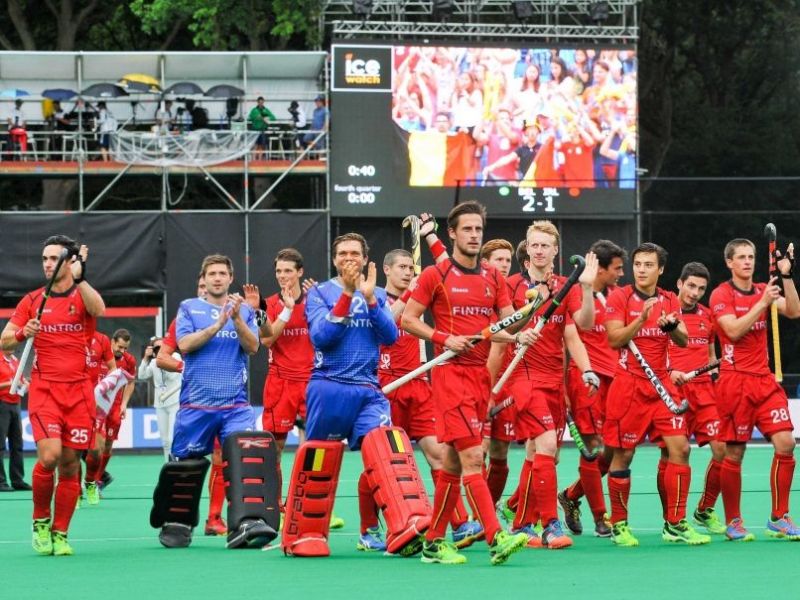 Varun Kumar richly deserved the man of the match award.  It was he who virtually got India the equaliser. His mighty swipe from the third penalty corner got India a stroke which was neatly converted by Harmanpreet Singh.Till then India was trailing.
Playing before a packed Kalinga Stadium, the hosts India were little jittery in the start, conceding two penalty corners in the opening minute, Before it could get into rhythm, the host was in arears, conceding a goal, its first of the tournament, to a penalty corner by Alexander Hendrickx in the 8th minute.
Belgium with a majority of players with over 200 games each played to a strategy of not allowing Indian attackers, especially Mandeep and Akashdeep, to settle down. Man to man marking and quick clearances with intelligent interceptions by the Red Sticks put additional pressure on the Indians who had to struggle hard shake off the 0-1 lead. Belgium led 1-0 at the breather.
Of 30 games played between two hockey powers, Belgium has won 13 and India 12 with remaining five having ended in draw. Two of these drawn games were decided by penalty shootouts with both the teams sharing honours.
Also Read: Odisha Hockey Men's World Cup: Hard fought win for Belgium
Both India and Belgium had won their opening pool games, India against South Africa by a flattering margin of 5–0 and Belgium worked out a 2-1 win over Canada.
Man of the match :Varun Kumar (India).
-PTC NEWS