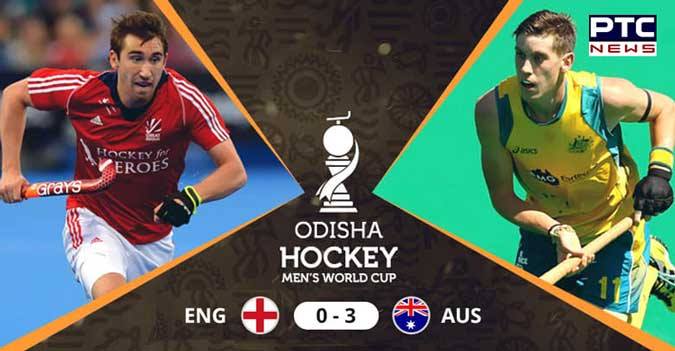 Odisha Hockey Men's World Cup Three goals in final quarter gets Australia 3 points
Defending champions Australia in a burst of thunder scored thrice in the last quarter to down England in a pool B match of the Odisha Hockey Men's World Cup at Kalinga Stadium in Bhubaneswar on Tuesday. The win, the second for the Aussies, keeps them at the top of the table with maximum of six points while England staggers at the bottom with one point from two games.
Also Read: Odisha Hockey Men's World Cup: Hard fought win for Belgium
After barren first three quarters, it looked as if the Australia had preserved its best for the last quarter. Two goals in two minutes at the start of the final quarter  supplemented by another superb goal in the 56th minute gave the current champions an impressive 3-0 win, its 21st win over England in 28 games.
Starting with Jake Whetton in the 48th minute, the Kangaroos tightened their grip in the game in the 50th minute with a goal from Blake Govers. The third and the final goal was a beauty.
Also Read: Odisha Hockey Men's World Cup: France muffs penalty stroke and chance to beat Spain
Matthew Swann, who was later awarded man of the match, did some uperb stick work to beat a horde of defenders before making a back pass for  Weyer whose reverse flicker packed with tremenoud power gave no chance to Lovell in the goal.
In fact even goal by Blake Gowers was a treat to watch. He not only ran back 10-12 yards to take a back pass but also slammed the ball with tremendous accuracy and strength while still running facing his own goal.
These three classic goals apart, the first three quarters saw both England and Australia trying to do each other in run of play.
It was a game between number one and number four team of the last World Cup. Since Australia brought in a new look team, England had put its best foot forward. England needed a win desperately after a disappointing 2-2 draw against China in the first pool game.
Also Read: Odisha Hockey Men's World Cup: Round I of pool matches saw domination of field scorers
It turned out to be battle between two goalkeepers – George Pinner of England and Tyler Lovell of Australia – as they both brought off some excellent saves. If Barry Middleton almost scored for England in the first quarter, Trent Mitton did the same for Australia in the second quarter. Both were unlucky to see their lovely attempts going waste.
Australia has excellent track record against England. It was won 20 of 27 games played against England, lost four and drew the remaining three. Aussies have scored 64 goals in these previous games and conceded only 30. Australia has won the World Cup three times while England has won one silver in 1986.
Man of the match: Matthew Swann
-PTC NEWS