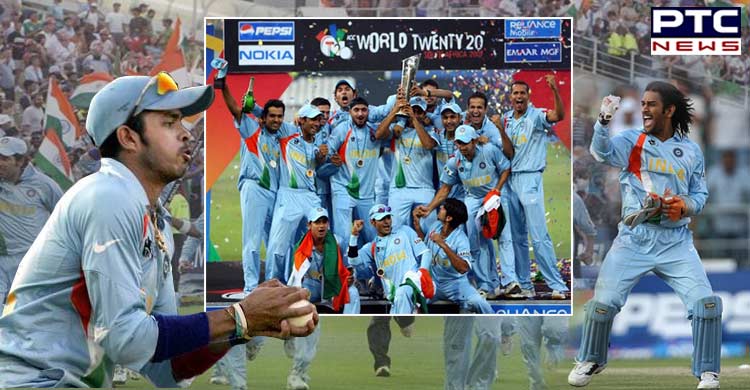 On this day in 2007, India lifted its maiden World T20 Trophy, marking a spectacular victory in a nail-biting match against arch rival Pakistan. The political volatility of Indo-Pak relations spills over on the pitch whenever the two nations face each other and this time was no different. During that spectacular match in 2007, then skipper MS Dhoni led the team to victory. India won the toss and opted to bat first at The Wanderers Stadium, Johannesburg.
Opening the innings, Gautam Gambhir scored much-needed 75 runs off 54 balls. But Team India started to collapse as wickets started falling. Yusuf Pathan, who opened with Gambhir, managed to score just 15 runs off 8 balls and went back to pavilion in the third over. Robin Uthappa stepped in and went back to pavilion after scoring just 8 runs off 11 balls.
https://twitter.com/BCCI/status/1176341737440043008?s=20
Yuvraj Singh tried to give full support to Gambhir but he was under pressure as he had played 19 balls and scored just 14 runs. He miscalculated and gave a catch to Umar Gul, who was bowling. Now, the score was 103-3 in 13.3 overs. Skipper M S Dhoni went back to pavilion after scoring just 10. Rohit Sharma tried to salvage the situation to ease the pressure on Gambhir, but it was too late.
Gambhir went back to pavilion after scoring 75 runs and Rohit Sharma scored 30 off 16 balls. India scored a fighting total of 157 runs. Now, it was all up to the bowlers, and they did their job well. RP Singh gave Pakistan an early jolt as he dismissed Mohammad Hafeez on 1 and number three batsman Kamran Akmal on duck.
Imran Nazir, the opener, was smashing the ball over the boundary, trying to build up pressure on India, but a throw from Robin Uthappa came as a game-changer. Nazir went back to pavilion after scoring 33 runs. Younis Khan and Shoib Malik were trying to move forward slowly without losing a wicket. However, Joginder Sharma and Irfan Pathan had different plans. Joginder dismissed Younis Khan (24), while Irfan Pathan sent back Shoib Malik (8) to the pavilion. Power-hitter Shahid Afridi went back to pavilion on a duck on the first ball played.
Also Read: BCCI names 15-man squad for 3-match Test series against South Africa
Yasir Arafat, Sohail Tanvir and Umar Gul tried their best to support their skipper, but triplets were bowled after scoring 15, 12 and 0, respectively. The crucial moment was the last over of Joginder Sharma, with Misbah-Ul-Haq playing maturely, leaving people in both nations glued to their TV sets. Pakistan needed 6 runs from 4 balls, while India needed a wicket.
MS Dhoni called Sreesanth in and Misbah tried to play a scoop shot. Dhoni's brilliance saved the day. The victory was celebrated with firecrackers.
-PTC News