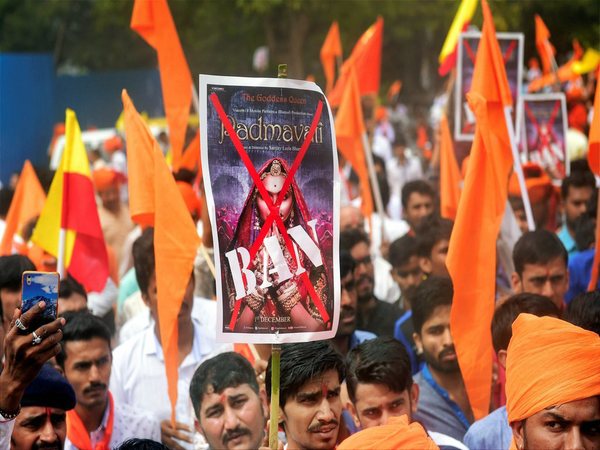 The Gurgaon police arrested four people on Sunday, including a Karni Sena leader, in connection with the attack on a school bus and torching of a state roadways bus here during protests against 'Padmaavat', taking the total number of arrests to 46.
PRO of the Gurgaon police Ravinder Kumar told that a special investigation team probing last week's violence here arrested Harinder, the Karni Sena's Rewari district president, and his two supporters from Kurthla in neighbouring Nuh district.
One more accused, identified as Rohit of Begampur Khatola village in Gurgaon district, surrendered before the police Sunday evening.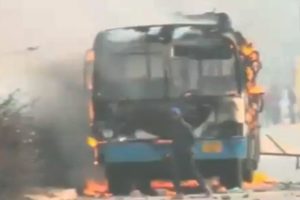 "A total of 46 people have been arrested so far... Thirty-two of the 46 people have been arrested in criminal cases registered in different police stations of Gurgaon, while 14 were arrested as part of preventive actions," Kumar said.
Among those arrested is the national secretary of the Karni Sena, Suraj Pal Amu.
"Strenuous efforts are being made to arrest the remaining hooligans who were involved in the violent incidents which occurred in different locations," the Gurgaon police PRO said.
Meanwhile, a group of angry villagers of Bhondsi, who had called a 'mahapanchayat' today against the Gurgaon police's action against "innocent" people, was denied permission to hold the meet by the district administration on account of prohibitory orders in force in the area.
On Wednesday, a school bus carrying 20-25 students was targeted in Gurgaon and the Delhi-Jaipur national highway was blocked by supporters of the Karni Sena, which was at the forefront of the opposition to the controversial film directed by Sanjay Leela Bhansali, along with other fringe groups.
A state-run bus was torched near Bhondsi village on that day.
The protesters alleged that the movie, based on the saga of the 13th-century battle between Maharaja Ratan Singh of Mewar and Sultan Alauddin Khilji of Delhi, distorted history and showed Rani Padmavati in "poor light", despite historians being divided on whether the queen actually existed.
The filmmaker has denied the allegations. PTI