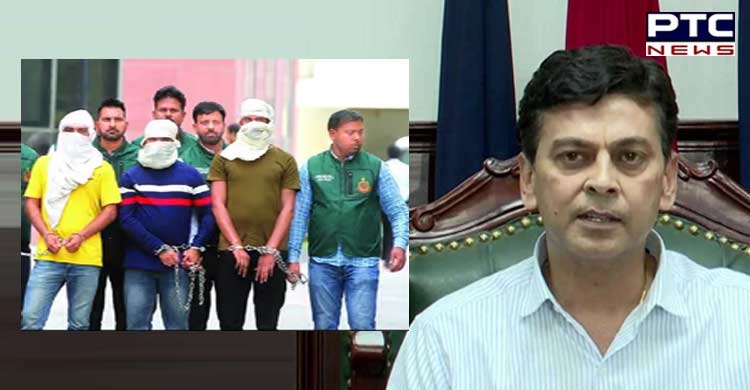 Chandigarh, June 23:
The Punjab Police on Thursday made another arrest in Punjabi singer Sidhu Moosewala's murder. The accused has been identified as Haryana's Sirsa resident Baldev Nikku, who along with Sandeep Kekda did the recce of the Punjabi singer.

Addressing a press conference in Chandigarh on Thursday, ADGP AGTF Parmod Ban said
a total of 13 persons had been arrested in the Sidhu Moosewala murder case so far. The first arrest was made on June 30.
Also Read |
World Health Network declares Monkeypox outbreak a public health emergency
"Baldev aka Nikku arrested today is a resident of Sirsa in Haryana. His work was to conduct recee, pass on information to the conspirators who were directly in touch with the shooters. He is named in many other previous cases," said AGTF chief Pramod Ban .
The ADGP AGTF said during interrogation, gangster Lawrence Bishnoi had admitted that he was the mastermind of Sidhu Moosewala killing. Although the police official did not comment on the killing being linked to Vicky's Middukhera's murder, sources said it might be also the reason.
The planning to kill Moosewala began in August last year. At least three recces were done prior to the murder. In January, another group of shooters had visited Moosewala's place.
ADGP Ban said Lawrence Bishnoi had confessed to hatching the conspiracy with Goldy Brar, Sachin Bishnoi (Thapan) and Lawrence's younger brother Anmol.
Lawrence sent his brother Anmol abroad in April this year for his safety in the follow-up of the murder, which was in the planning stage. Sachin Bishnoi was already abroad. After the murder, Sachin gave an interview to a media channel, claiming he had shot at Moosewala. "This was aimed to mislead the police," said Ban so that the police would start searching for Sachin and others would escape.
Lawrence Bishnoi also admitted that he would use cellphone in jail too, raising questions on the security at Delhi's Tihar Jail.
Ban said 19 other associates of gangsters had also been arrested from various districts of Punjab and weapon and ammunition were also recovered from their possession.
Also Read |
Centre approves setting up 'BRO Cafes' for tourists across 12 states, UTs
The ADGP said a team of the Punjab Police was in Delhi to question shooter Priyavrat Fauji. He said a total of 147 gangsters had been arrested in the last two-and-a-half months.
-PTC News