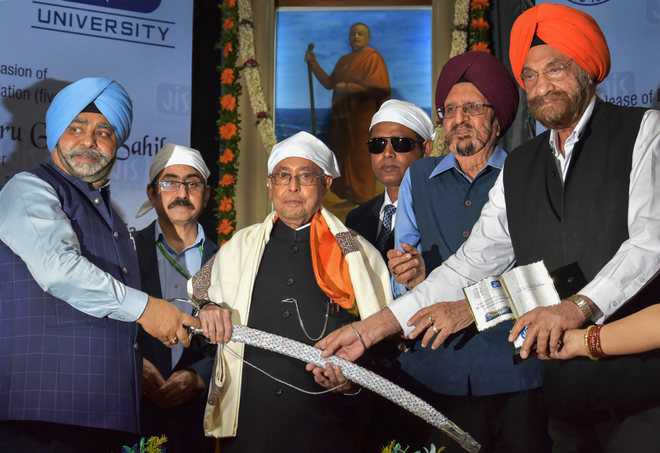 Pranab Mukherjee releases Bengali translation of Guru Granth Sahib Ji
Former President Pranab Mukherjee released Bengali translation of Sri Guru Granth Sahib Ji on Friday at Ramakrishna Mission Institute of Culture in Kolkata. The five volumes of Sri Guru Granth Sahib Ji were unveiled to mark the celebrations of 550th birth anniversary of Sri Guru Nanak Dev Ji. The programme was organised by JIS University in Kolkata.
Also Read: California assembly delegation reaches Sri Harmandir Sahib
While addressing the audience at the ceremony Pranab Mukherjee said that the Bengali translation will promote inter-religious faith. He further said that because of this translation, it will reach out to more than 300 million Bengalis around the world.
Also Read: Sukhbir Badal thanks PM Modi for accepting 70 year old demand of Sikh community by deciding to establish the Kartarpur corridor
According to a Sindhi scholar and publisher of Sri Guru Granth Sahib Ji, Lachman Chellaramji, the translation was commissioned by Dada Chellaram Publications. It took four years for Chayon Ghosh & Jhuma Ghosh to translate Sri Guru Granth Sahib Ji.
- PTC NEWS