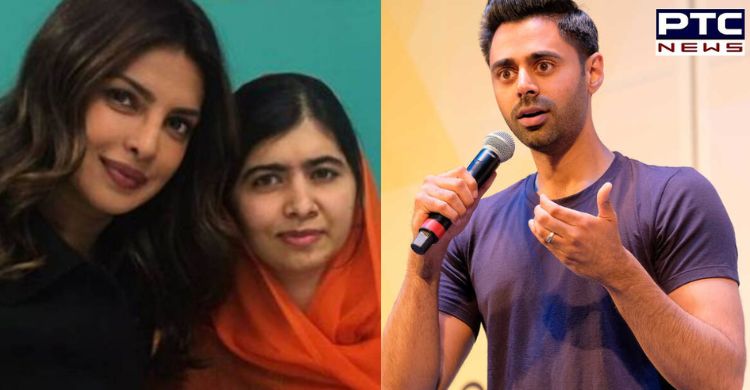 Los Angeles (US), October 16: Priyanka Chopra gave a shoutout to Malala Yousufzai in her Instagram feud with Indian-American comedian Hasan Minhaj.

Priyanka took to Instagram to tell her followers that she does not follow Hasan back. Along with the screenshot, she also wrote a message for Malala - "Same girl same @malala Looks like he prefers petty over funny."
She also tagged Hasan Minhaj, and Nick Jonas in the story.
Malala recently unfollowed Hasan Minhaj on Instagram. This comes as a retaliatory action against Hasan who recently said that he doesn't follow Malala on the social media platform even though she does.
So, what really happened between Malala and Hasan Minhaj?
Also Read | AAP minister Baljit Kaur's convoy rams speeding car into scooty, two seriously injured
Malala recently posted a video to her Instagram account in which Hasan can be heard stating, "All right, s**t's gotten out of hand. On October 4th I made a joke about Nobel Peace Prize Winner Malala Yousafzai. I said she follows me on Instagram and I don't follow her back. Then on October 5th, she retaliated. She puts up an Instagram story that says 'Should I unfollow Hasan Minhaj? 39% of her voters said 'Who is this man?' 38% of them said 'Yes.' Instead of doing a runoff, she unfollowed me on Instagram. I'm sorry Malala. Follow me back. I don't know if I will follow you, though. I am that petty."
Then Malala captioned the video, "thanks to everyone who sent me this video because I no longer follow this man."
Soon after, Priyanka Chopra stood up in support of Malala, sharing a screenshot of her not following Hasan back on Instagram!
Priyanka and Malala are believed to be close. They recently met in New York for the UNGA meeting. Later, they dined together at Priyanka's restaurant 'Sona.'
Also Read | Punjab VB arrests ex-minister Sunder Sham Arora for bribing official
-PTC News with ANI inputs