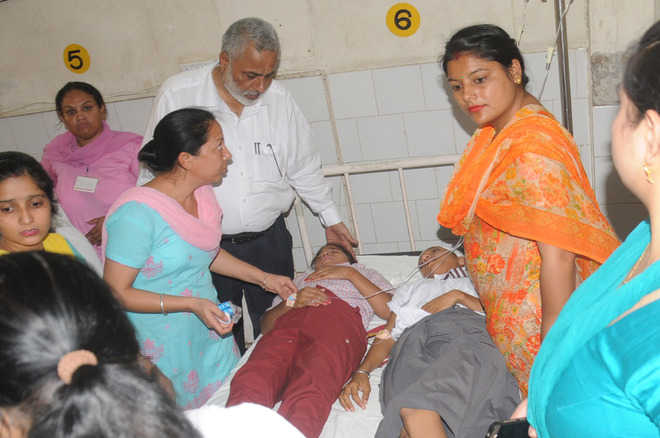 13 children were admitted to the Civil Hospital after they were given MR Vaccination in their schools.
Most of them are stable and under treatment, while one of them was referred to a private hospital, as his condition was initially critical. He too is now stable, claimed the Civil Hospital authorities.
A majority of the children admitted at the hospital are suffering from fever with rashes, vomiting and anxiety attacks. While seven children were vaccinated on the same day, the remaining six were vaccinated on different dates in the past one week.
Dr Satish Jindal, paediatrician at the Civil Hospital, said, "Six children with minor complications such as mild fever, headache and anxiety attacks, stabilised and were discharged in the evening after being given immediate medical care. The remaining children would be kept under observation. All children admitted at the hospital are in a stable condition now. Rashes coupled with fever among children three to six days after the vaccination is a common factor. These children require minimal medical care and are discharged after some time."
Apart from these 13 children who were admitted at the hospital, around half a dozen other children — who were vaccinated on or before May 7 and experienced minor health issues.
Civil Surgeon Hari Narain Singh said, "You can call up the Senior Medical Officer. I can comment only when I am in office on Tuesday." Senior Medical Officer (SMO) Satish Goyal said, "We have a district immunisation officer for the campaign who can speak on the issue."
-PTC News