Ferozepur, September 28: As many as 18 trains of the Ferozepur division in Punjab have been affected as members of various farmer  bodies squatted on train tracks here on Thursday as part of the three-day 'Rail-Roko' agitation. 
Several farmer bodies led by the Kisan Mazdoor Sangharsh Committee are on a three-day 'rail blockade', which began on Thursday, with several demands, including a financial package for losses caused by recent floods, a legal guarantee to minimum support price (MSP) and debt waiver.
A railway official of the Ferozepur (FZR) division said  the services of as many as 18 trains had been hit till now on the first day of the rail blockade agitation. "Of those, 12 trains, which set off from and arrive here have been cancelled and the remaining, long route trains, have been diverted," he said.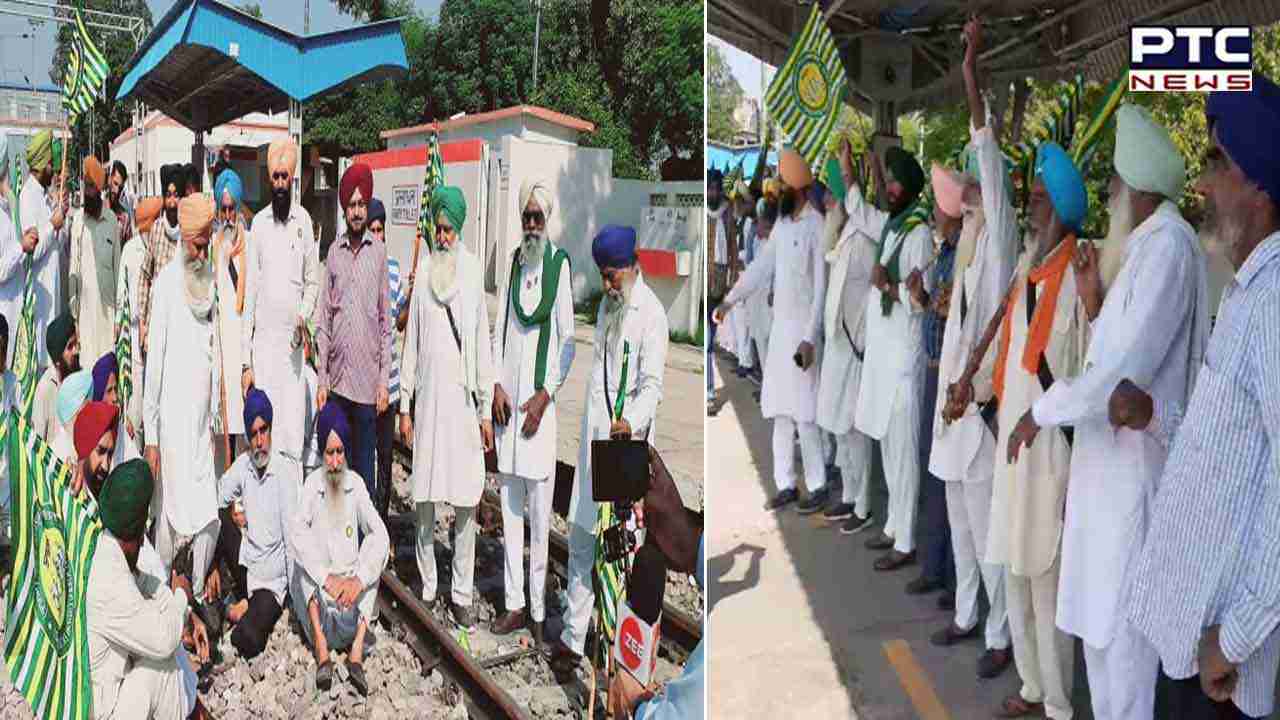 Dilbag Singh, one of the protesters, said the call for the three-day-long agitation was given a month earlier and that the government should provide an immediate solution to their demands. 
"This (Rail Roko protest) which is going on, was called a month earlier. We want the government to hold talks and provide solutions to our demands," he said. 
The agitating farmers are also demanding action against Union Minister Ajay Mishra Teni's son Ashish Mishra, the main accused in the Lakhimpur Kheri incident of 2021, which killed four farmers. 
Earlier in the day, Sarwan Singh Pandher of Kisan Mazdoor Sangharsh Committee, who was present at the Amritsar protest said, "If anyone tries to be unfair with the farmers of Punjab, then farmers from Haryana will also join Punjab farmers. Farmers are united throughout the country."
Pandher further said at Devi Dasspura, thousands of farmers had gathered in their tractors and bikes to hold an agitation demanding compensation over losses considering the floods in north India which have affected the crops."
"The agitation has been called by 18 unions in North India. Home Minister Amit Shah came to Amritsar and he promised to bring MSP guarantee law but the committee has not been formed yet. The cases that had been registered during the Delhi agitation have not been withdrawn," Pandher said.
"The farmers who lost their lives, and their families have not got the compensation and jobs which was assured. The victims have not got justice in the Lakhimpur Kheri incident. We have demanded 50,000 crore as compensation for the floods. The drugs that are being supplied through drones are not being checked at the borders. The protest is against the central government," he added.
Police official Balvir S Ghuman said massive security had been deployed to deal with the situation. 
- ANI
Join Whatsapp Channel