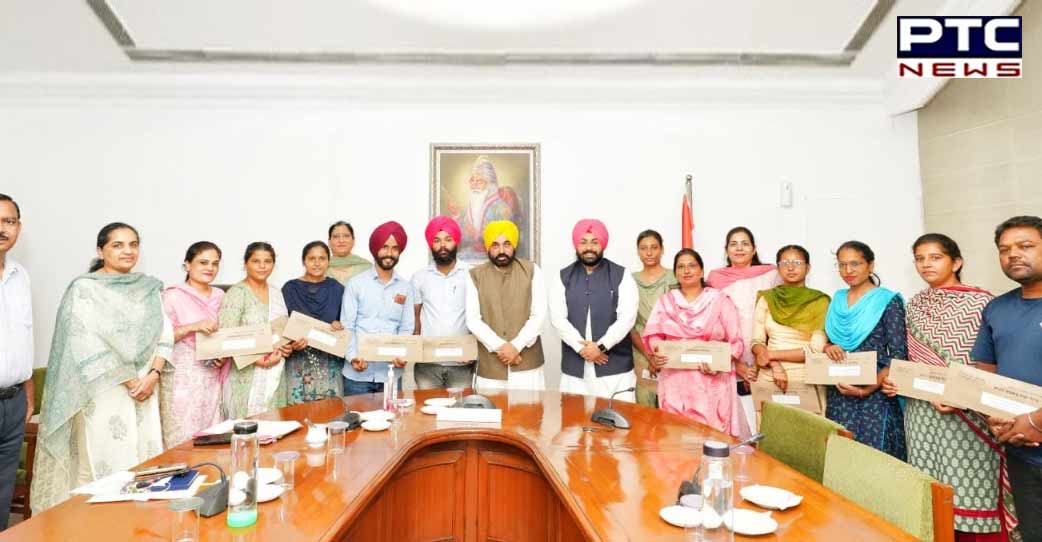 Chandigarh, 18 August: Punjab Chief Minister Bhagwant Mann reiterated the state government's commitment to complete the ongoing recruitment process of all departments in a fair and transparent manner.

Also Read | ED raids premises of Mukhtar Ansari's relatives
Talking to the teachers on the occasion of issuing the station allotment letters to 12 of the teachers, the Chief Minister congratulated the candidates and said that they have achieved this position with hard work and dedication. He said that these young people who worked hard deserved this position, who made their place on the basis of merit out of extreme competition. Bhagwant Mann said that the process of other such appointments is also going on, which will be completed soon in a transparent manner.
The Chief Minister further said that the Aam Aadmi government took the first decision after assuming power in the state to start the recruitment process of the youth. He emphasized that the state government is committed to carry out the procedures of each department in a smooth manner so that the people do not face any problem. Bhagwant Mann said that the remaining vacant posts will also be recruited soon because this time is needed for the progress of the state and the well-being of the people.
Backing these candidates, the Chief Minister said that these teachers should ensure the best education to the children through their skills. He encouraged the teachers to do their work with full honesty so that the children they teach can reach achieve in every field at the national and international level. Bhagwant Mann expressed hope that this ETT Teachers will be role models for students because with great power comes great responsibility.
Attacking the previous governments, the Chief Minister said that his government had taken many exemplary initiatives for the welfare of the people in the early days of its tenure, whereas previous governments used to take such steps at the very end of their tenure. He said that this government has done so many things in a few days, which have not been done in the last 75 years. Bhagwant Mann said that he will continue to serve the people with the same missionary enthusiasm and spirit in the coming time.
Also Read | Lakhimpur Kheri case: SKM to hold protest against Centre over various demands
-PTC News