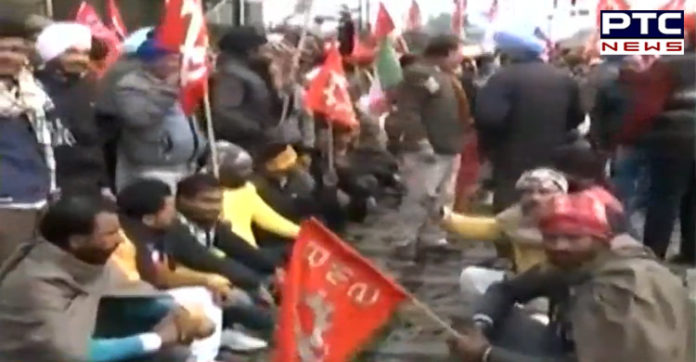 Punjab Latest News: Protesters have blocked a railway track in Amritsar during Bharat Bandh called by ten trade unions on Wednesday. A number of unions are participating in the strike.
The Unions include Centre of Indian Trade Unions (CITU), All India United Trade Union Centre (AIUTUC), Hind Mazdoor Sabha (HMS), Self-Employed Women's Association (SEWA), All India Trade Union Congress (AITUC), Labour Progressive Federation (LPF), United Trade Union Congress (UTUC), All India Central Council of Trade Unions (AICCTU), Indian National Trade Union Congress (INTUC) and Trade Union Coordination Centre (TUCC).
The Unions are asking for 14 demands. The key demand is to scraps the proposed labour reforms, while the others include a hike in the minimum wage to Rs 21,000-Rs 24,000 per month.
Meanwhile, the Unions are asking for repealing the Citizenship (Amendment) Act (CAA), National Register of Citizens (NRC) and National Population Register (NPR), and to halt the privatisation of public sector undertakings.
During the Bharat Bandh in West Bengal, a clash erupted allegedly between Trinamool Congress (TMC) and Students' Federation of India (SFI) workers in Burdwan. Likewise, a protest march took place in Thiruvananthapuram, Kerala.
All is well! Donald Trump after Iran launches missiles at two US military bases in Iraq
Congress leader Rahul Gandhi hailed the trade unions' Bharat Bandh. He said in a tweet, "The Modi-Shah Govt's anti people, anti labour policies have created catastrophic unemployment and are weakening our PSUs to justify their sale to Modi's crony capitalist friends. Today, over 25 crore ??workers have called for #BharatBandh2020 in protest. I salute them."
-PTC News