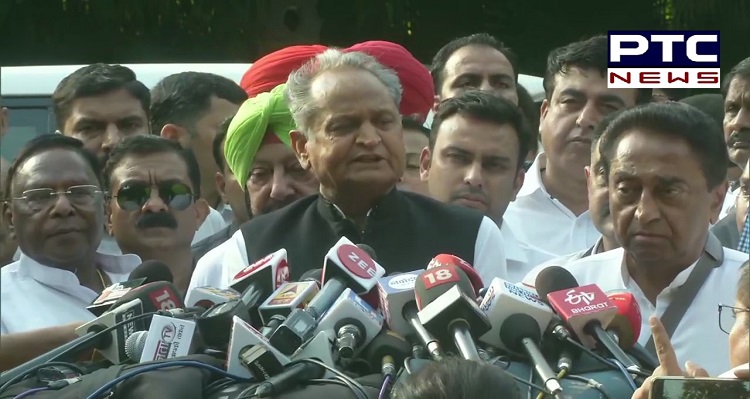 Rajasthan Chief Minister Ashok Gehlot on Monday met Congress President Rahul Gandhi along with Punjab CM Captain Amarinder Singh and several other senior Congress leaders to urge him to take back his decision. Ashok Gehlot, Captain Amarinder Singh, Kamal Nath along with other senior Congress leader addressed the media after meeting Congress President Rahul Gandhi. He said that it was a good meeting and they talked for over two hours.
https://twitter.com/ANI/status/1145662020815114240
Ashok Gehlot said they have conveyed to him the feelings of the party workers and leaders. Also, Ashok Gehlot said that they hope that Rahul Gandhi will pay heed to their views and do the right thing.
https://twitter.com/ANI/status/1145663789590831105
Also, Rajasthan CM Ashok Gehlot said that the other side misled the country in the name of patriotism. He said that Prime Minister Narendra Modi did politics in the name of Indian Army, misled the people in the name of religion. Ashok Gehlot took a dig at PM Narendra Modi that he didn't talk on development, economy, and employment.
Also Read: Jammu and Kashmir, Kishtwar Road Accident: 35 Killed, PM Narendra Modi expresses grief, J&K Governor Satya Pal Malik announces ex-gratia
Rahul Gandhi, on the other hand, has been adamant on the decision of resigning as a Congress President post-defeat in Lok Sabha Elections 2019. Meanwhile, Sonia Gandhi and Priyanka Gandhi have been trying to convince him to not to quit as Congress President, but he is rejecting all of these.
https://twitter.com/ANI/status/1145672641212309505
Rajasthan CM Ashok Gehlot spoke up on the reports that he & Madhya Pradesh CM Kamal Nath offered to resign in meeting with Rahul Gandhi. He said and ANI quoted, "Resignations are put in the day results come out, Chief Ministers have to offer their resignations, then high command takes the decision on what to do next."
-PTC News