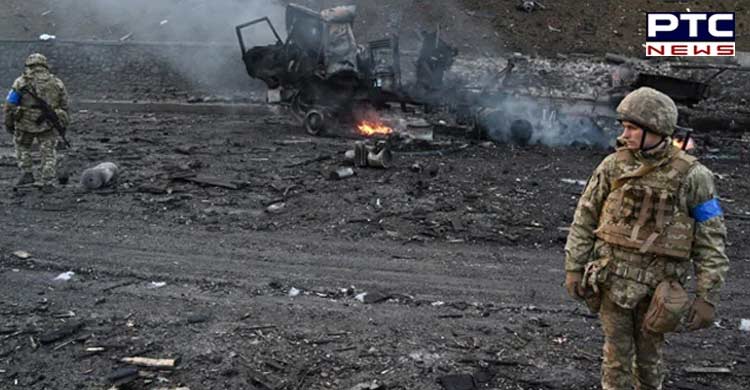 Russia-Ukraine War Day 11 Highlights: The war between Russia and Ukraine is getting intense with the number of casualties rising day by day.

During a meeting with US senators, Ukrainian President Volodymyr Zelenskiy reportedly made a "desperate plea" for eastern Europe to deliver Russian-built aircraft to Ukraine. He also asked for a no-fly zone, deadly help, a boycott on Russian oil, and Visa and Mastercard to be suspended in Russia.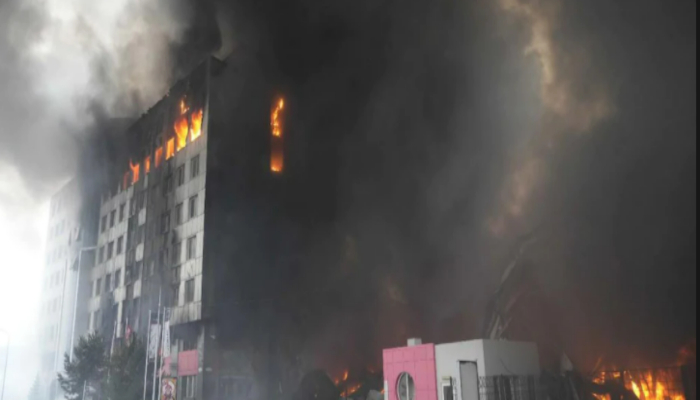 Also Read: Israeli PM Naftali Bennett offers to mediate between Russia, Ukraine; speaks with Putin, Zelenskiy 
As Moscow strives to cut off the Ukrainian government from the sea, Russia's military is aiming to add to its victories in the south, advancing closer to the crucial port city of Odessa.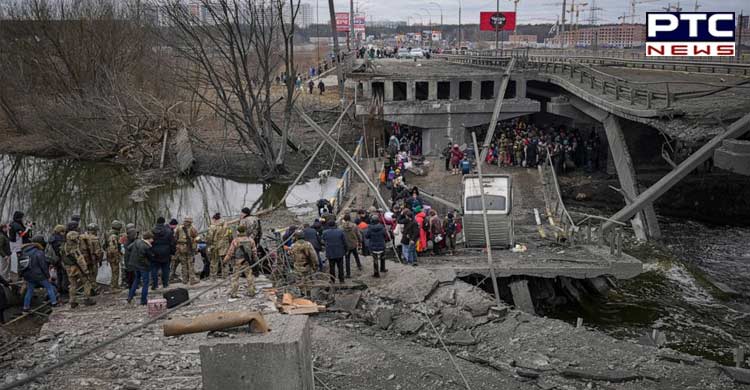 Also Read: Operation Ganga: Special flight carrying 183 Indian citizens arrives in Delhi 
Meanwhile, in India Prime Minister Modi chaired a meeting to review the situation in Ukraine and the evacuation process, the US and the UK have issued travel advisories and recommended their citizens to leave Russia.
Russia-Ukraine War Day 11 Highlights:
18:00 pm | Ukraine's President Volodymyr Zelensky said that Russian rockets had completely destroyed the civilian airport of the central-western region capital of Vinnytsia.
17:42 pm | Turkish President Erdogan talks with Vladimir Putin, calls for an 'urgent general ceasefire': official
17:25 pm | Humanitarian assistance provided to stranded students at Sumy Ukraine by Red Cross Ukraine in coordination with Indian World Forum. They are being provided with water and essential supplies.
16:52 pm | This is a terrible situation, he (Putin) has to stop. Our stand is the same as other European countries (on Ukraine's refugees).Germany is strongly taking part in packages of sanctions.We had quite a lot of dependencies on Russian gas but we've reduced it: German Envoy to India
16:34 pm | Zelensky (President of Ukraine) says Russian forces preparing to bombard Ukraine port city Odessa
16:22 pm | US 'working actively' on deal for Polish fighter jets to Ukraine
16:20 pm | From day one Russian President Putin is lying...he said he is not invading but rescuing Russian speaking people there&now there is shelling&bombing. NATO is a defence alliance, we've never been aggressive, never invaded anything: German Envoy to India on Ukraine crisis
16:15 pm | Under Operation Ganga, 2135 Indians have been brought back today by 11 special civilian flights from Ukraine's neighbouring countries. With this, more than 15, 900 Indians have been brought back since the special flights began on 22nd February, 2022: Ministry of Civil Aviation
15:53 pm | India has excellent diplomatic service, they know what to do... It's not about Ukraine or the EU, it is about the global world order...We all have to stand together against it...: Walter J Lindner, German Envoy to India on Ukraine crisis
15:40 pm | Through Operation Ganga , We've evacuated 448 students of Karnataka origin. 47 batches from Delhi & Mumbai have reached. 12 flights have been scheduled for Tomorrow. We've another 236 students who have to be evacuated from Ukraine: Dr Manoj Rajan, Commissioner KSDMA
15:15 pm | More than 1 million people have now fled Ukraine to seek safety, and millions more are likely to join them: United Nations
14:30 pm | We successfully managed COVID & now the situation in Ukraine ; have evacuated our people safely ... Even big countries facing difficulty in doing so, but it's India's increasing resilience that 1000s of students have been evacuated: PM Modi at Symbiosis University, Pune
14:02 pm | Embassy of India begins its last leg of Operation Ganga flights today. All those students staying in their own accommodation (other than arranged by Embassy) are requested to reach Hungaria City Centre , Rakoczi Ut 90, Budapest between 10 am-12 pm, says the Embassy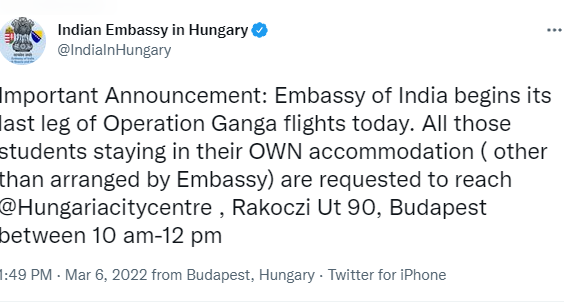 13:58 pm | Hungary | We've teams at Hungary-Ukraine border giving us info on how many Indians are crossing border,other teams looking after accommodations,transport etc. More than 150 volunteers helping us: Rajiv Bodwade,Dy Chief of Mission,Embassy of India in Israel deputed on special duty
13:57 pm | Embassy of India in Ukraine asks Indians in Ukraine to contact them on an 'urgent basis' with their mobile number and location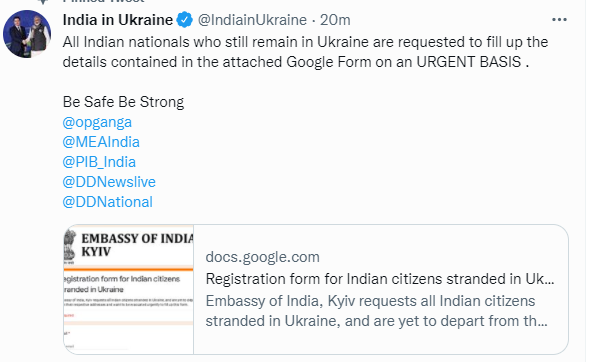 13:55 pm | The Embassy of India sets up a control room in Budapest, Hungary to coordinate the evacuation of Indians stranded in Ukraine
13:06 pm | Russia resumes its offensive on the Ukrainian port city of Mariupol after a temporary ceasefire failed, with allegations of violations by both sides.
12:50 pm | Indian Air Force flight leaving for Poland with humanitarian assistance for Ukraine.
11:58 am | Indian students elated and relieved after returning from Ukraine and meeting their families at Delhi airport Russia-Ukraine crisis
11:30 am | Ukrainian refugees near 1.5 million as Russian assault enters 11th day
11:00 am | Russia has claimed that humanitarian corridors will be reopened in Mariupol and Volnovakha on Sunday morning.
10:30 am | During the coronavirus pandemic when Indians were coming back from abroad, CISF personnel took risks in taking care of fellow Indians and even lost their lives. They've been taking care of returning citizens from Ukraine under Operation Ganga too: Union Home minister Amit Shah
10:00 am | Ukraine's President Volodymyr Zelensky talked to US President Joe Biden about "the issues of security, financial support for Ukraine and the continuation of sanctions against Russia," as per his tweet.
09:30 am | "Mariupol Mayor: Russia blockades city, denies humanitarian corridor. According to Mayor Vadym Boychenko, the city has been left without water and electricity, while 400,000 city residents are held hostage by the Russians," reports The Kyiv Independent
09:00 am | A special flight, carrying 154 Indian citizens from Ukraine, lands in the national capital from Košice in Slovakia.
-PTC News