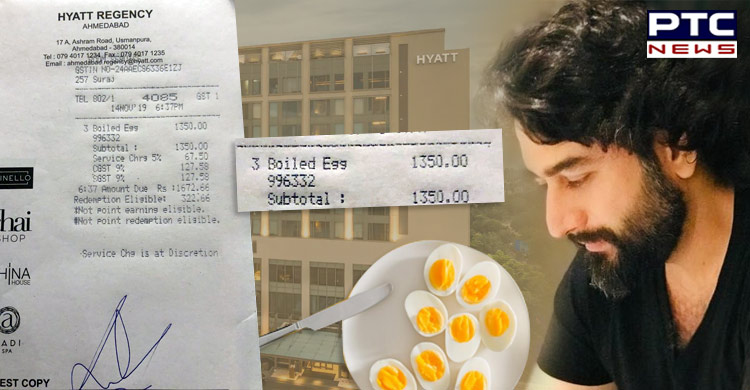 Soon after Rahul Bose was charged Rs 442.50 for two bananas at JW Mariott hotel in Chandigarh, Music director Shekhar Ravjiani has been charged more than Rs 1,000 for just three boiled eggs at a 5-star hotel in Ahmedabad. The incident involving Rahul Bose went viral after he shared a video on social media. Shekhar also took to Twitter to express his ire at the bizarre incident.
https://twitter.com/ShekharRavjiani/status/1194982095728205824?s=20
Shekhar posted a picture of the hotel bill on Thursday with the caption, "Rs. 1672 for 3 egg whites??? That was an Eggxorbitant meal." The singer and composer was charged the inflated amount at Hyatt Regency in Ahmedabad. His tweet went viral in no time. It already has over 3,500 likes and more than 730 retweets and counting.
Meanwhile, Twitter came up with hilarious jokes and memes. Twitter user Alpesh Parmar said, "Sir you could have purchased from road side raw eggs Rs 58 per dozen and boil in electric kettle in the room itself. Don't complain on social media." Mocking hotel officials, another user wrote, "The service charge of 5% is maybe for the chicken which laid the eggs."
Here's what netizens have to say...
https://twitter.com/srikanthbjp_/status/1195194612907827200?s=20
https://twitter.com/1ravisingh/status/1195036150781505541?s=20
https://twitter.com/tripylekhak/status/1195167547399626752?s=20
https://twitter.com/kauspet/status/1195209771328012288?s=20
https://twitter.com/FunMauji/status/1195205600524660737?s=20
https://twitter.com/pashyantii/status/1195205849460793345?s=20
https://twitter.com/amit987840/status/1195158288494735361?s=20
https://twitter.com/MotiullaMondal/status/1195142545074016257?s=20
https://twitter.com/vispat4/status/1195079528265109504?s=20
https://twitter.com/VIKRAMRANA3/status/1194983146359382017?s=20
-PTC News