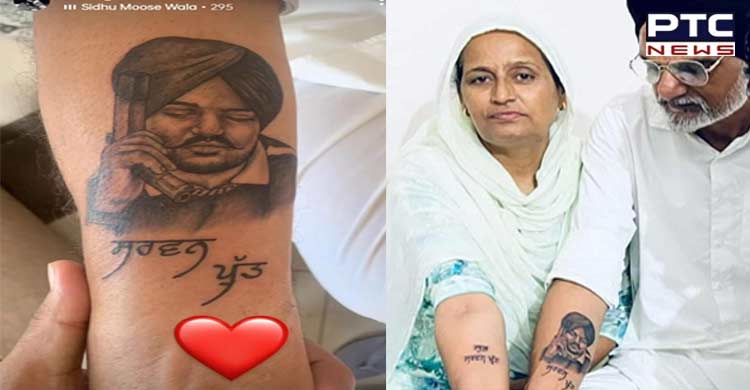 Chandigarh, July 29: Late Punjab singer Sidhu Moosewala's father, Balkaur Singh, inked his son's face tattooed on his arm. The singer's mother, Charan Kaur, too got inked.

A video of his heartfelt tribute to Sidhu Moosewala was shared on social media, garnering love and praise from followers.
Sidhu aka Shubhdeep Singh Sidhu was 28 years old when he was killed on May 29 in Punjab.
The late singer's father got a tattoo featuring his son's face. The tattoo also had 'Sarwan Putt' written in Punjabi which loosely translates to 'obedient or caring son'.
Sidhu Moosewala's mother Charn Kaur also got a tattoo inked. Her tattoo, similar to her husband's, featured 'Shubh Sarwan Putt' written in Punjabi.
Also Read | Chandigarh: Rise in 'HFMD' cases among students, schools switch to online classes
The late singer's official Instagram page shared a video of Balkaur Singh getting tattooed, which the family opted to keep active in order to stay in touch with his fans. A person can be seen making Sidhu's face on his father's arm in the video shared on Instagram Stories.
A clear tattoo can be seen in a later Instagram Stories photo.
Sidhu Moosewala was shot dead in Punjab's Mansa district on May 29. The singer had joined Congress in December 2021, months before his death, ahead of the state Assembly elections in Punjab.
Also Read | Both pilots killed as IAF Mig-21 crashes near Rajasthan's Barmer
-PTC News