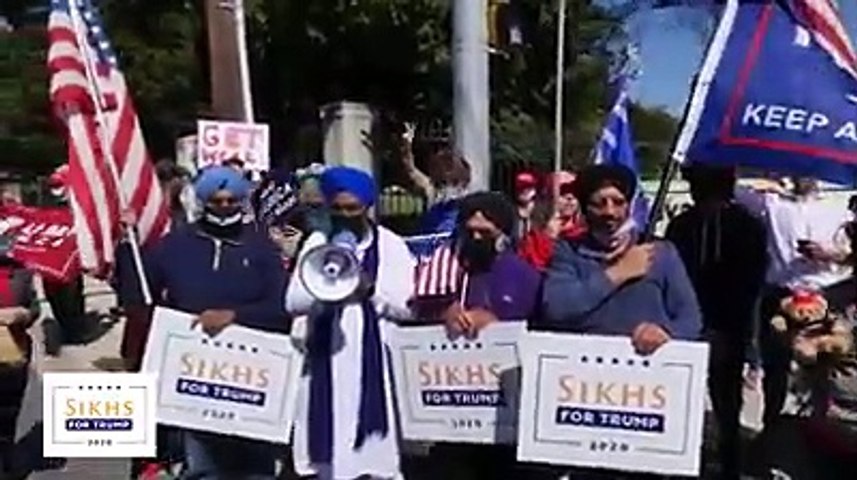 A few people of Sikh community across US and Canada got furious as the news spread like wildfire that less than half a dozen Sikhs, "still wearing their shoes", prayed for the ailing US President Donald Trump outside Walter Reed National Military Medical Center on Sunday.

Trump, who has downplayed the severity of the COVID-19 pandemic, was admitted on Friday to the hospital for treatment.
The handful of Sikhs led by Jasdip Singh Jesse, a self-styled leader of a miniscule organization "Sikhs of America" and a Trump supporter since the last election.
The "Ardas" (Sikh prayer from Holy Sikh scriptures" was recited by Swaran Singh, official Granthi, (Sikh priest) from Gurdwara Singh Sabha, located at 6701 Brentwood Ave, Dundalk, MD 21222, USA. The others recited with him as a chorus at the end.
All are supposed to remove their shoes and cover their heads before entering a Sikh shrine or praying anywhere.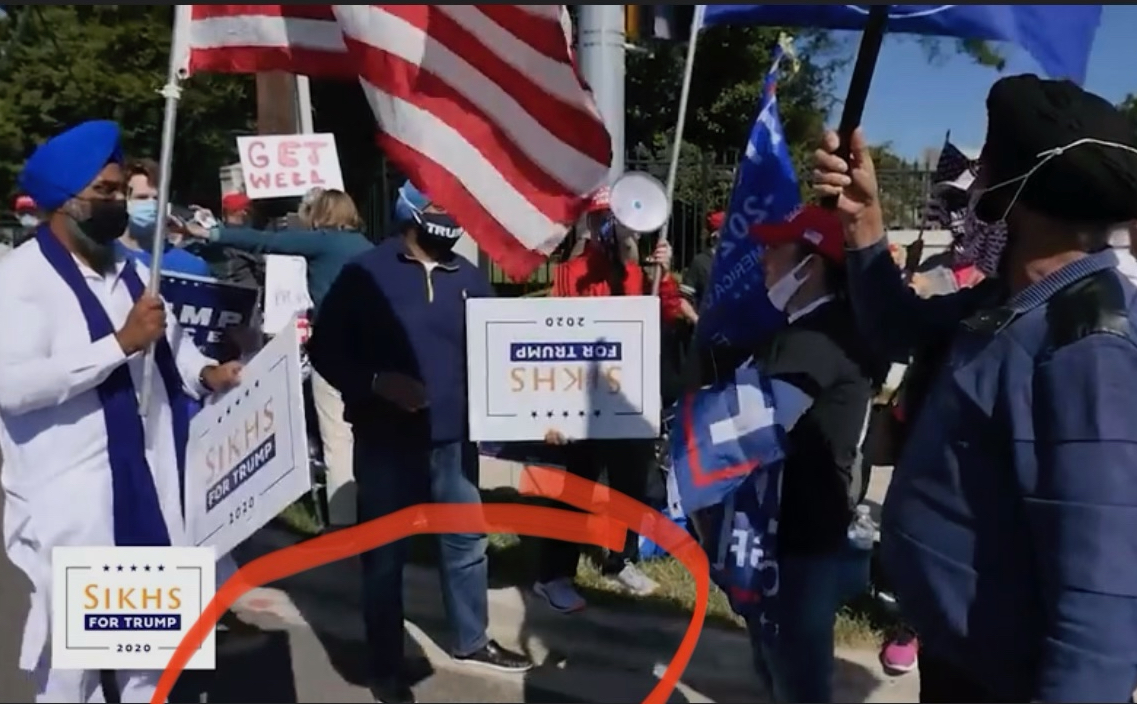 Expressing surprise and anger over the incident, Harjit Singh Hundal, General Secretary of Shiromani Akali Dal in the USA told IAT, "I am devastated to see such blatant show of disrespect for Sikhism. As a practicing Sikh, I have never witnessed Sikhs, especially self-proclaimed leaders of the community and even the Granthi who is supposed to be an expert in religious ceremonies, show such careless behavior against the Sikh traditions."
"I call upon the religious leaders including Akal Takht Jathedar (One of the Highest Religious Leaders of Sikhism globally) and also Akali Dal leadership to denounce such desecration behavior against Sikh religious practices," Hundal added.
In addition to Jesse, others in attendance were his close associates, Baljinder Singh Shammi and Kanwaljit Singh Soni, who hold the respective positions of Coordinator for Maryland State and Sikh Affairs Committee, USA – for Overseas Friends of Bharatiya Janata Party (OFBJP).
Also Read | Trump returns to White House after getting discharged from 4-day stay at hospital
The OFBJP is the overseas branch of the BJP, the ruling party of India in Delhi (led by Indian Prime Minister Narendra Modi). People have raised concerns over the presence of BJP officials on this occasion.
Many in the crowd in front of the hospital are not wearing masks; although Montgomery County, where Walter Reed is located, mandates almost everyone wear face coverings in public.
However, Trump is now discharged from the hospital after a 4 day treatment of coronavirus.
-PTC News