World Athletics Championships 2023: In a touching and memorable moment, India's revered athlete, Neeraj Chopra, often referred to as the 'Golden Boy,' demonstrated sportsmanship by inviting his rival, Arshad Nadeem of Pakistan, to join him for a photo opportunity. This heartening gesture occurred shortly after Neeraj emerged victorious over Nadeem to claim the gold medal at the World Athletics Championships in Budapest.
Neeraj, draped in the Indian tricolour, stood with pride as he celebrated his triumph. In a display of sportsmanship and camaraderie, Nadeem, the silver medalist from Pakistan, graciously stood alongside his Indian counterpart for the photograph, showcasing the spirit of unity and respect that transcends competitive boundaries.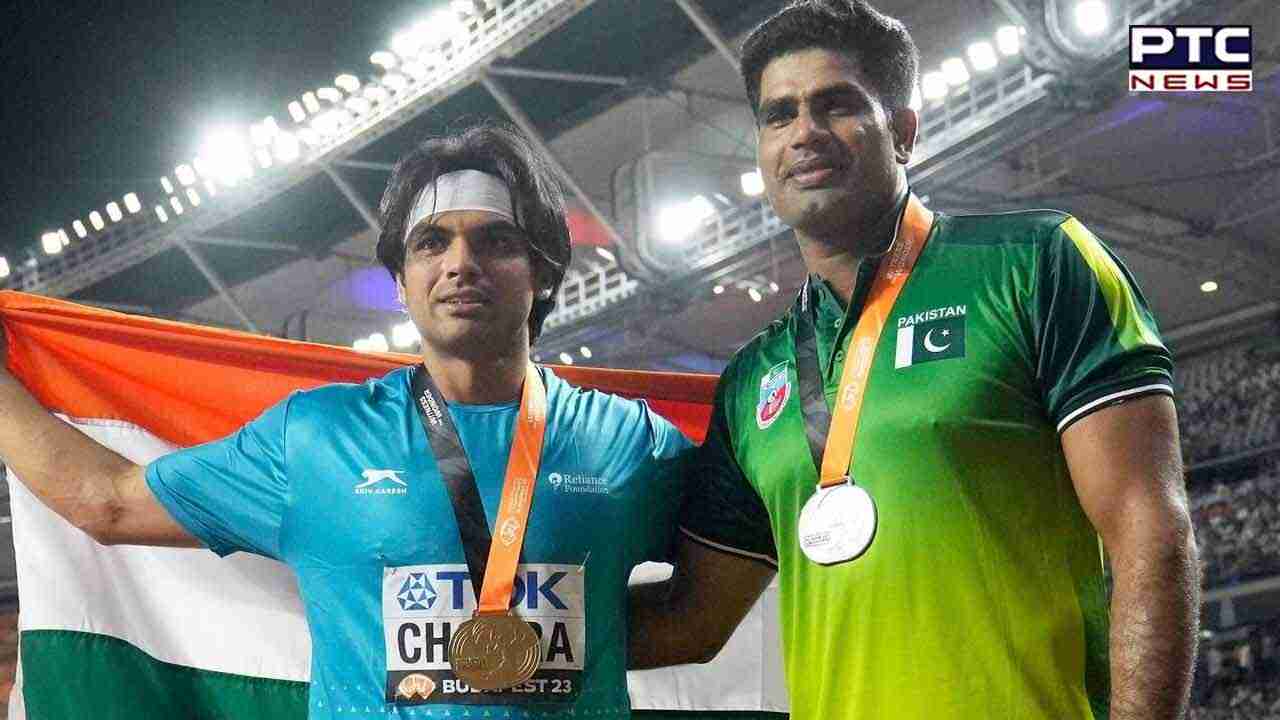 Arshad Nadeem's accomplishment at the world championship received widespread recognition, particularly given the challenges he faced. Some social media users hailed his success in the face of what they described as "NO WORLD CLASS SUPPORT." Despite limited facilities and infrastructure, Nadeem's achievement resonated deeply with people who recognized his determination and dedication.
The sentiment of pride echoed beyond borders, as the Pakistan Cricket Board joined in acknowledging Nadeem's achievement, declaring, "Supporting our star, Arshad Nadeem, from Multan. We are proud of your efforts, as you become the first-ever medallist for Pakistan at the World Athletics Championship."
However, the moment was not without questions. Some observers raised queries about why Nadeem did not have the Pakistani flag with him during the photo session. This detail prompted discussions, as users pondered the absence of the national flag on this significant occasion.
Nadeem himself shared his thoughts on his performance, expressing his gratitude to Allah and acknowledging the challenges he had overcome. He highlighted the historical significance of his achievement, proclaiming, "This was the first time in the history of Pakistan that any Pakistani athlete won a medal at the World athletics championships."
On the early hours of August 28, a new chapter in sporting history was written. At the World Athletics Championships held in Budapest, Neeraj Chopra, India's Olympic medalist, claimed his place in the pantheon of sports excellence. With fierce determination, he secured the first gold medal for his nation in the intense competition of the men's javelin throw event. In a thrilling final, Neeraj narrowly outperformed his rival, Arshad Nadeem of Pakistan, solidifying his status as a sports legend.
Also Read: World Athletics Championship: Neeraj Chopra, the Golden Boy, expresses desire for 90m throw despite victory
- With inputs from agencies