Lucknow, October 30: India's wicketkeeper-batsman KL Rahul received the coveted "Fielder of the Match" award from fielding coach T  Dilip for his exceptional fielding performance during India's impressive 100-run victory over England in the World Cup 2023.
KL Rahul showcased his exceptional wicketkeeping skills, particularly in handling the swinging ball early in the innings. In recognition of his outstanding efforts in win over England in World Cup 2023 match, he was presented with a gold medal in a unique and memorable manner.

Fielding coach T Dilip, known for innovative award presentations, orchestrated another surprise for the players. As the stadium lights dimmed, he called the players to step out, and it was then that KL Rahul's name was revealed, delighting the entire team.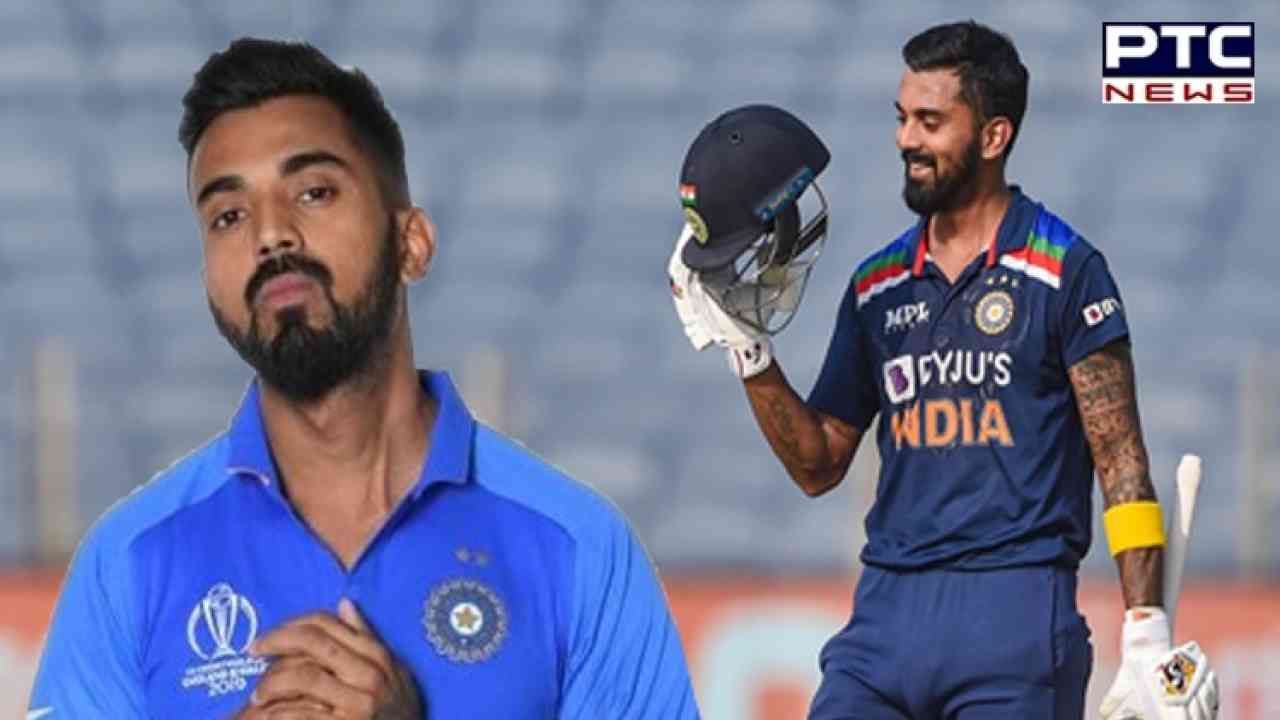 This award presentation followed the previous occasion when a drone delivered a photo frame of Shreyas Iyer as part of the prize announcement. Ravindra Jadeja presented the medal to Iyer, with Kuldeep Yadav ensuring that the cricketer proudly wore the photo frame.
Dilip also acknowledged the commendable efforts of players such as Virat Kohli, Ravindra Jadeja, and captain Rohit Sharma in combatting the dew factor and maintaining the condition of the ball.
"Something really impressive today was that there was dew out there, the spinners were on top but the one per cent factor which that role played by Rohit, Virat and Jadeja,..even in the in-circle fielders trying to dry up the ball and helping the ball each and everything counts and everything is noticed," Dilip stated in a video posted by the BCCI.
Regarding the match itself, India effectively tackled the dew factor and England's batting depth to secure a resounding 100-run victory, marking their sixth triumph in the tournament.
In the game, England chose to bowl first, and India posted a total of 229/9 in their allotted 50 overs. While prominent stars such as Virat Kohli, Shubman Gill, and Shreyas Iyer had slow starts, valuable contributions from skipper Rohit Sharma (87 runs off 101 balls with 10 fours and three sixes), KL Rahul (39 runs off 58 balls with three fours), and Suryakumar Yadav (49 runs off 47 balls with four boundaries and a six) propelled India past the 200-run mark.
David Willey (3/45) excelled with the ball for England, while Rashid and Chris Woakes (2/33) each claimed two wickets, and Mark Wood secured one. In pursuit of India's total, England struggled to pose a real threat, with Liam Livingstone (27 runs) being the sole batter to surpass 20 runs. India's formidable bowling duo of Mohammed Shami (4/22) and Jasprit Bumrah (3/32) decimated the English batting lineup, while Kuldeep Yadav (2/24) and Ravindra Jadeja also made significant contributions with the ball.
- ANI
Join Whatsapp Channel