Shiromani Akali Dal (SAD) president Sukhbir Singh Badal today condemned the Congress government for trying to befool employees by announcing approval of one DA instalment even as four instalments worth Rs 4,000 crore remained pending besides deliberately delaying the sixth Pay Commission report and refusal to regularise contractual employees.
Commenting on the cabinet decision to approve release of DA instalment, the SAD president said "this is merely an election stunt to trick the employees on the eve of parliamentary elections. The Congress party has become adept at doing this. Earlier it betrayed farmers and youth by promising them complete loan waiver and 'ghar ghar naukari'.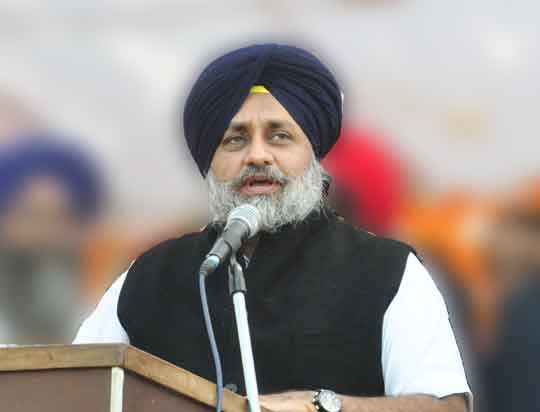 Mr Badal said the truth was that none of the major pending demands of government employees had been met by the Congress government. "Never before in the history of Punjab have government employees been denied their just benefits as is being done now under the Congress regime. Employees were forced to commemorate the holy occasion of Diwali as a Black Diwali last year as the government failed to release four installments of DA at the rate of nine per cent of basic pay of seventh Central Pay Commission". He said this due – of Rs 4,000 crore which had accumulated in the last nearly two years – had not been released even now.
Mr Badal said this was not all. He said employees had been demanding regularization of services of all 27,000 contractual employees who had been identified by the previous SAD-BJP government and for whom the Punjab Adhoc, Contractual, Daily wage, Temporary, Work Charged and Outsourced Employees' Welfare Bill, 2016  was also passed after convening a special assembly session. He said it was unfortunate that the Congress government was refusing to implement the Act.
The SAD president said the manner in which employees were being discriminated could also be seen from the fact that the salary of RMSA and SSA teachers had been reduced while offering them regularization of services after a period of three years.
The SAD president said benefits due to employees following implementation of the Sixth Punjab Commission were also being delayed with the government deliberately delaying the report. "Recently the term of the Commission was extended to ensure it does not submit its report quickly", he added.
Mr Badal said if the government was really concerned about employee welfare it should release the Rs 4,000 crore besides issuing directions to the Pay Commission to submit its report within three months. He said simultaneously the government should give interim relief to employees by hiking the basic pay by 10 per cent after merging DA with it.